Season 2017/18 Summary
What a cracker!!! 🤩And thankyou everyone at UE Cabrera (Staff, Coaches, Parents and Players) for one of the most enjoyable football seasons we have experienced.
The pre-season began with several (4) offers from clubs wanting Natasha to play for them and a journey back to Australia for Natasha to go into training camp with the Australian U17 team. She came away from the camp absolutely buzzing with a very definite idea of the pathway she wanted to take and the type of footballer she wanted to become. On returning to Barcelona, Spain she accepted an invitation from UE Cabrera to play in their U19A team as they were about to embark on their first season in U19 first division. Natasha took on a leadership role due to her previous experience in first division and her level of football ability. She fought relentlessly to help Cabrera to achieve their objective and played a total of 52 games during the season averaging about 10km per game (80min) only missing 1 game due to a virus. She worked tirelessly on every aspect of her football both on and off the field and continued to make big improvements this season as well.
Natasha had an absolutely amazing season, so impressive was she that her coach told her that she had the best touch of any player he had ever coached in over 17 years of coaching and that she was like the legendary Andres Iniesta where her ball control was like she had the ball on a string. One of the highest compliments any midfield player could receive. Her ball control, running game, passing game, goal creation and scoring all continued to improve. Her technical football ability, athleticism and ability to run with the ball at her feet terrorized the opposition. Her strength showed in her ability to win so many difficult balls and to hold off defenders as she kept the ball at her feet while scanning the field for best options. She also developed her ability to control a game from her midfield position and to direct the team in order to get the best from them, all without losing focus on her own game.
She scored 13 goals which were often important goals, one being the only team goal in the Mic Cup Consolation Final, had at least 8 assists and had too many key passes to count. She travelled over 1,200km in total during training and games, lifted over 35 tonnes of weight with her gym training and in the last 4 seasons she has played 39, 42, 44 and 52 games respectively without a non-contact. Which is extremely impressive considering the collisions and the leg chops she receives in nearly every game.
Thankyou again to everyone at UE Cabrera for a fantastic and enjoyable season and watch this space for Natasha´s  plans for next season.
26/06/2018
Another game to finish the season as Natasha played with her likely team for the next season against a team from Colombia. Her new team looks to be a very composed football team who look to pass the ball at every opportunity and play some absolutely outstanding football at times. Natasha´s team were far too skilful and athletic for the Colombian team and dominated the game from start to finish eventually winning 2-0 but could have been 10-0.
Natasha had a very solid game in the midfield and while it was clear that she was taking it easier than when she plays her competition games she played very well and distributed the ball well. She also had 3 shots on goal, 2 just wide and a great header which was saved. Everything looks very positive for next season.
16/06/2018
Another tournament win and trophy to finish a long hard season for the Cabrera team. As the season draws to a close this Cabrera team played together for the last time in a local tournament in Barcelona and while all the team was clearly tired and far from playing their best football they did enough to win both games and the tournament and took home another trophy to finish the season on a high.
​MIC Cup Consolation Champions
10/06/2018
v RCD Espanyol – It was an end of season Memorial game against Espanyol and in 30 degree heat saw Cabrera produce their best result against Espanyol this season with a 1-3 loss, however their football was not to the same level as previous weeks as it appeared the heat was taking a toll on the players and some players have switched off at the end of a long hard season.
Natasha played some nice football but overall was not to her usual high standard. A nice long rest will be a welcomed reward for a very impressive season for her but there is one tournament left on the weekend ahead before she will get that rest.
02/06/2018
v Vic Ruiprimer – Well it was the last game of the home and away season and Cabrera's third game in 6 days at the end of a very tough and hard fought season. Those players that had not been injured had played at least 40 games including pre-season and tournament games and both teams looked very tired. However, to their credit both teams played a composed attacking game of football in what was another hard fought but entertaining game. Cabrera`s defense played back to the keeper more times this game than in the entire season combined and for most of the game Cabrera played composed passing football but two defensive lapses cost 2 goals and they lost 2-1.
Natasha was playing her 48th game of the season and while she played very well with some fantastic passages of football, it was clear that the fatigue of Tuesday nights game and a long season was having an effect on her as her timing on her long shots was a little off and she didn´t posess her usual crisp speed. However, she did play alot of impressive football with impressive ball control and penetrating runs and did an amazing run with the ball and shot that lead to their only goal.
29/05/2018
v La Roca Penya – Only 2 days after Cabrera had their biggest win of the season, they were made to fight very hard in what was an extremely physical game against 7th placed La Roca. Cabrera dominated field position even though posession was relatively even with Cabrera scoring all goals including an own goal to produce a very impressive 2-1 win. This apparently now makes the final game of the season game against Vic extremely important to see who finishes in the highest relegation position because if a team decides they don´t want to be promoted to first division then the highest team in relegation zone will remain in first division which now rides on the result in the final game. So this will be the 30th tough game of the season😳.
Only 2 days after running 10km in the last game (80min games) Natasha was very keen to play well against La Roca and to fight for the win: She was clearly being marked from the beginning of the game and had to fight hard for every ball but Natasha seems to be improving wih every game and she gave a quality display of first class football as she scored a fantastic goal, won heaps of defensive balls and was penetrating in attack. Cabrera will be hoping for a similar effort from Natasha in the final game of the season.
27/05/2018
v Tancat – Cabrera played arguably their best game of the season with a notable improvement in the ball control and passing game against the team just below them on the table and they produced their biggest win of the season and scored the most goals in a game for the season. While the first half was a real struggle to get things to click with the half-time score locked at 1-1, the second half saw Cabrera dominate with 3 very good second half goals to produce a strong 4-1 win.
After a week of as much rest as possible, Natasha played an amazing game, by controlling the midfield and she showed a complete range of skills to dominate the game and help her team to a 4-1 win. Natasha scored 1 goal, had 2 assists, had 2 shots hit the post, had 2 shots saved and one near miss in what was one of her best games of the season.
20/05/2018
v Sant Gabriel – Cabrera had gotten themselves into a situation where this game against 5th place Sant Gabriel had become a must win game in order to remain in the hotly contested First Division. However, it appeared the long hard grind of the first division season where there are no easy games, along with the mental fatigue that had accumulated with the last 4 games all being "must win" games and the rapid spike in heat, when altogether, resulted in a meltdown as Cabrera fought valiantly but did not play anything near their best football to be comfortably outplayed and defeated by Sant Gabriel 3-0. The remaining games are now for pride and building for next season.
While Natasha displayed many of her trademark quality touches and passing accuracy it was clear that the fatigue she has accumulated in playing her 45th game this season was beginining to take its toll as she made some uncharacteristic decisions and plays she normally wouldn´t make and she clearly didn´t have the usual crispness in her running game. Overall she played a solid game managing a fantastic touch and a superb left foot shoot on goal but not quite the dominant display we have become familiar with this season.
06/05/2018
v Font Santa – All last 5 games are now crucial for Cabrera´s battle to remain in first division and with only 5 games remaining Cabrera will need to win at least 3 and hope that other results go in their favor to remain in first division for next season as the reality sets in of how big the jump is from second division to first division in the Catalunya area. Their opponent this week, Fontsanta is fighting a similar battle however not in as desperate situation. Again we watched two opposing styles as Fontsanta focused on a controlled passing game and Cabrera remained with their more direct kick and chase style. In a very competitive and closely fought game Fonsanta eventually won comfortably with a 3-1 win which makes the next 4 games even more desperate for Cabrera.
Natasha had a very strong game creating many strong attacks for her team and having some shots on goals herself. She was fouled several times and closely marked in the second half before being badly chopped late in the second half  causing her to leave the field with a badly corked calf muscle.
29/04/2018
v RCD Espanyol – As we have said before, "it doesn´t get any easier" as Cabrera took on the competition leaders in RCD Espanyol. Espanyol are a very competent, composed and physical team that play a very controlled posession and passing based football game. So another tough game and another test for the more direct kick and chase style football of Cabrera. At half-time the score was equal at 0-0 and with Cabrera having the stronger attacks on goal in a competitive half of football. However, after half-time and Espanyol brought on some stronger players and settled into their composed passing game and simply took Cabrera apart. Cabrera made too many defensive errors which resulted in 6 second half goals and a comfortable 0-6 win to Espanyol.
Last time Natasha played Espanyol in a league game she left the field with bruises all over her legs. It was the worse chopping she had ever experienced and she had all the marks to prove it. This time she vowed that she would begin the game with alot of physicality to send the Espanyol players a message that she would not simply let it happen. The message was loud and clear as in two early collisions two Espanyol players ended on the ground and then Natasha was able to play the remainder of the game as normal, however it was difficult playing midfield in a team the was rarely passing the ball and while she fought hard all game, she was unable to help her team to victory. ​
21/04/2018
v FC Barcelona – It was always going to be a challenge when Cabrera took on the mighty FC Barcelona at Barcelona´s home ground and interesting to see the direct kick and chase play of Cabrera versus the ticky tacka of FC Barcelona, The first half saw FC Barcelona dominate play as usual but Cabrera fighting hard with a 1-1 scoreline at half-time and Cabrera having scored both goals, one being an own goal. Some half-time positional changes to Cabrera´s team seemed to unsettle them and the ongoing pressure of FC Barcelona´s ticky tacka resulted in 3 second half goals for a comfortable but respectable 4-1 win to Barcelona. And next week does not get any easier as Cabrera take on competition leaders RCD Espanyol.
Natasha played a very strong game against what would be considered one of the best club teams in the world in the U19 women age group. Her game consisted of many great touches and ball control along with some strong defence and accurate passing. Natasha played very well against a very high quality opposition.
15/04/2018
v Girona – This week was the challenge of playing against La Liga club team Girona in what was regarded by many experts as the most crucial game of Cabrera´s season in their fight to remain in first division. It was Girona with their ticky tacka style against the much more direct Cabrera, and while Cabrera were still some way off playing their best football, some very penetrating play in the middle by Natasha and two great goals by Paula resulted in a crucial 2-1 win. However it doesn´t get an easier as Cabrera play FC Barcelona and RCD Espanyol in their next two games😳.
Natasha continued to fight for many balls in the midfield as she forced many turnovers and really pushed forward strongly all throughout the game. While not always putting a finish on her runs she nearly always put Cabrera deep into attack and created some real quality opportunities. A very solid game from her.
07/04/2018
v Manu Lanzarote – Well after a great result in the Mic Cup, only a week later and Cabrera had to face a challenging game against fourth placed Manu Lanzarote. Cabrera didn´t start the game very well as they simply kicked the ball back to Manu Lanzarote therefore allowing Manu Lanzarote to dominate field position and posession at about 80/20 or higher. Fortunately, at half time the team identified they were playing very poorly and changed their style of play to be a more passing football which made them much more competitive in the second half. However, 3 defensive errors cost 3 goals and they lost 3-1. With many issues to fix the coaches and team face a big challenge as they are now at a point where they must win at least 50% of their remaining games.
Natasha had another difficult game as again she had to fight hard for her posessions because she only received about 8 passes from her team during the entire game. She is also being targeted by the opposition teams as you can see in the highlights video as she has 6 opposing players surrounding her at one point which is making it difficult for her to make strong attacking plays. However, when she won more ball in the second half she often helped the team make strong attacks with some very astute passing or strong runs with the ball.
MIC Cup Consolation Champions
Easter break saw Cabrera play in the prestigious Mic Cup (Mediterranean International Cup). The Mic Cup brings teams from all over the world together to compete. This year it included over 150 teams and over 4000 football players. Cabrera were allocated into a difficult Group C for the Group stages with the very impressive RCD Espanyol and a National academy team from Japan. Cabrera started well with a 4-1 win over Pontenc. The following day they started well dominating the Japanese National Academy team for the first 10 minutes of the game until the usual panic football began to return. This resulted in the Japanese team gradually overcoming Cabrera with a 2-0 win. By the end of the day a very tired team gave a very unimpressive performance against the might of RCD Espanyol losing 4-0. The group stage results meant Cabrera would have to be content with playing for the Consolation trophy in the final knockout stages.
The Quarter Final match was against Louisiana Dynamo where Cabrera played their best football of the season with a controlled and composed passing game to comfortably win 3-0 and move into the Semi-Finals.
The Semi Final match was against an Andorra national team and while Cabrera didn´t maintain the high football standards of the quarter finals they did win comfortably at 2-0 and progressed to the final.
The Final match was against Cabanes and saw 2 extremely tired teams playing their sixth game of football in 4 days. While the football was not pretty, Cabrera went to the lead 1-0 behalf half-time only to let it slip to a 1-1 draw just before full-time which meant a penalty shoot out. After 8 penalty shots and 5 incredible saves by Alba the keeper, Paula slotted the winning penalty (4-3) for Cabrera to be crowned Mic Cup 2018 Consolation CHAMPIONS !!!😃😃😃
Natasha had a very strong tournament playing most of the minutes of all the games. She gave an extremely impressive performance against a classy Japanese team and while she was clearly tired by the final she worked tirelessly and scored a cracking left foot goal while surrounded by 5 defenders to take Cabrera into the lead in the final. ​She played about 280 minutes and ran over 35km in 4 days. A great effort and congratulations to all players, coaches, the directive and parents for a great result. .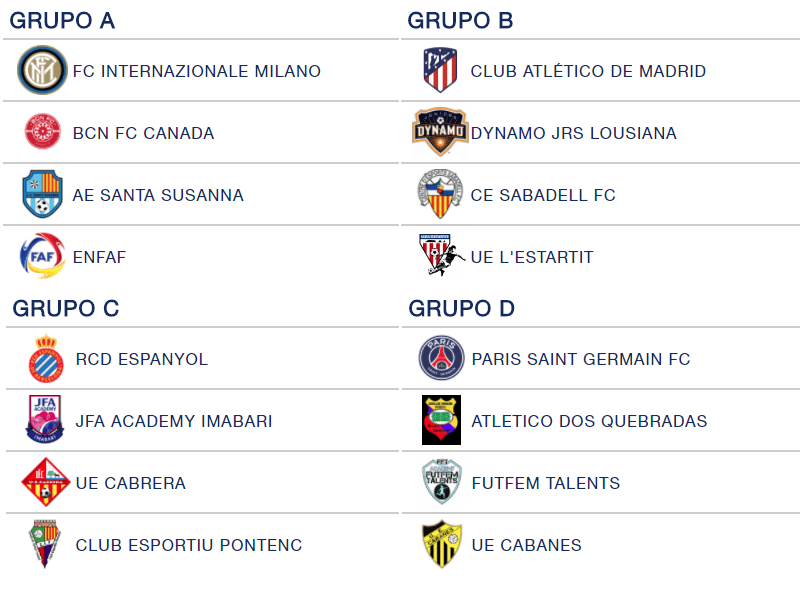 25/03/2018
v Santa Susanna – Another tough week in what is probably the closest competition I have seen in over 40years of being involved in sport, as Cabrera took on the very talented Santa Susanna. It was a pleasing start to the game as Cabrera attempted to play passing football and while they did not dominate posession against the very slick Santa Susanna team they did have more shots on goal at 5 to 1 going into half-time 0-0. However the  second half resulted in the defence falling into old habits and a couple of defensive errors along with two offside goals and the result was a comfortable 1-4 win to Santa Susanna.
Natasha had another very difficult game as she had to fight hard for nearly every ball and the Santa Susanna midfield gave her very little time with the ball. While she had some penetrating runs and two shots at goal from a distance she really struggled to have any influence on the game.
11/03/2018
v Reus – Well after such a great game last week, it was disappointing to see Cabrera return to a kick and chase football against a very strong but beatable Reus team. Cabrera scored a very nice goal to Rachel early in the game but never settled into any type of football as the defensive line continued to simply kick the ball up the field. An indication of the game was that Cabrera´s two key and very talented midfielders only received about 14 passes in total for the entire game. So the two key playmakers had to fight for every ball and only received 14 passes from their fellow teammates in the entire game. The defensive line still is unwilling to pass back to the keeper for safety or sideways to each other preferring to turn the ball back to the opposition as they kick the ball up the field. Cabrera fought and scrapped to a 1-1 draw to grab another point.
Natasha had a very difficult game as her team seemed determined not to play any passing football which always makes it difficult for the midfielders. She took some lovely touches, showed good ball control and nearly won the game late in the second half with a left foot shot that hit the crossbar and a perfectly placed corner kick that should have been headed in for a goal. She was clearly frustrated during this game.
28/02/2018
At just past the half way point of the season we thought we would take a quick review of how the season has progressed for Natasha and provide a short video of her highlights so far. Well we intended for it to be a short video but there are so many quality highlights that the video ended up longer then we anticipated.
The season began with a trip to Australia to train with the U16 National team and what a great learning experience that was. On returning to Barcelona in Spain Natasha decided to play with UE Cabrera with the promise of playing alot of game time in the U19 First Division Competition. The team has faced some difficult challenges in playing first division as the level is much higher than the second division they played last season however they are learning and improving and beginning to find form. Natasha also continues to improve and is having a huge season as at this point she has played 27 games, averaged over 70 minutes per game, scored 5 goals and has made some amazing plays. As the second half of the season continues Cabrera will play in the prestigious MIC Cup and work on climbing the table with Natasha hoping to be an integral part of that process..
11/03/2018
v Igualada – What a great WIN!!!!!! Cabrera played their best game of the season as every player stepped up to take on the extremely high quality Igualada A. It was a tough and hard fought game from start to finish with Cabrera scoring an opportunistic goal within the first 10 seconds to take a quick 1-0 lead. Igualada had more of the posession and controlled the play for the majority of the game, however Cabrera created more quality scoring opportunities 9-5 and scored 3 to win 3-1. Cabrera are making teams take notice as they have only lost one game from their last 7 games and have beaten 4th and 6th place and totally outplayed 7th place as they continue their momentum and continue to improve.
Natasha had a more quiet game than usual and turned over a bit more ball than usual but she played a very strong defensive game and created some very strong attacks. She also applied the defensive pressure for the turnover that led to the second goal and gave the assist for the third goal. Also with the entire team stepping up Natasha didn´t receive as much ball as she normally does but a great team effort for a great win against a very good football team.
03/03/2018
v Europa – This game was played against 7th placed Europa, a team that has been placed as high as 4th this season. Cabrera went into the game believing they were a very good chance to win the game. Cabrera´s defence continued to improve with more passing to their midfield then previously however they are still very hesitant to play back to the keeper. They did play well and kept a clean sheet while the very skilled and athletic midfield continued to work tirelessly but still need to develop a little more cohesion however, they dominated the midfield while the attacking players really need to create and score more attacking opportunities. This game was very tight with Cabrera having the better of the quality attacks however couldn´t put the ball in the net and the result ended 0-0. One point and only one loss in the past 5 games as Cabrera continue to compete with the top teams.
After a training that was heavier than it should have been on Friday night, less than 24 hours before the game, Natasha looked tired and played tired. She missed more passes than normal but still had well over 40 touches of the ball and displayed her usual high level of ball control. She traveled over 11.0km in an 80min game and created 4 shots on goal along with many other penetrating attacks and she had a major influence on the game. Next week we would like to see her fresh to take on the highly regarded Igualada.
24/02/2018
v Cerdanyola – Cabrera continue to work hard on their football game and while it didn´t all fall into place during this game there were very definite signs that they were attempting to play more of a team passing game. The defence played higher up the field and held their line much better than in previous weeks and as always they fought to the very end. With only 2 minutes of play left in the game  they snatched a goal to win 1-2 as they continue their good form with only one loss int the last 4 games.
Natasha had a very strong game playing some high quality football. She made many penetrating runs and had a very precise passing game. Even though she was closely tagged in the second half, she still managed to play some extremely good attacking football and scored the winning goal to help her team to another very important victory.
17/02/2018
v Damm – After a weekend rest and the beginning of the return rounds saw Cabrera facing the challenge of playing second placed team Damm who are a very physical and talented football team. This game was always going to be very difficult and was made even more difficult with a very nervous defensive line who kept dropping back and kept the very powerful Damm attack onside all game while also leaving a huge amount of space in the middle for the Cabrera midfielders to defend. An early goal to Damm was always going to make it difficult for Cabrera to win but a lovely header goal to Rachel made things closer at 1-2, however Damm showed their dominance and composure to go on and win comfortably 1-4.
Natasha had a mixed game where she did some lovely dribbling and attacking play with the ball but then had difficulty finding her teammates with some of her passes as they seemed to be very nervous and just not reading the game like they normally would. While she had limited opportunities some of her football in this game was high quality.
03/02/2018
v Vic Ruiprimer – How to snatch a draw from the jaws of victory was the result from this weeks game as Cabrera went to a 2-1 lead in the first half and outplayed Vic Ruiprimer for most of the second with several strong attacks on Vic Ruiprimer´s goal. However a huge defensive blunder with less than 30 seconds remaining resulted in a penalty and Vic scoring a goal to equal at 2-2. A very costly blunder indeed.
Natasha had another very strong game with a large amount of controlled posession and again a mountain of running along with the second critical goal and 2 near misses to again contribute strongly to the teams performance.
27/01/2018
v Tancat – Another win!!!!. While it wasn´t their best football, Cabrera outplayed Tancat to come away with a comfortable 0-3 victory as they move towards another very winnable game next week against Vic Ruiprimer.
Natasha was given a free reign by her coaches this week as they encouraged her to run more with the ball and to take the opposition on with her running. While it was a great opportunity and she absolutely loved it, she turned over the ball a little more than usual but scored 2 very good goals and played a very strong game of football to help lead her team to another victory.
20/01/2018
v Sant Gabriel – Yaaaaayyyyyy!!!!! A win. A well deserved win against the highly regarded Sant Gabriel team in what was a very physical and sometimes heated game. Cabrera scored 2 very good goals in the first 20 minutes and battled and fought to hang on for a 2-1 win. While they didn´t play their best football they thoroughly deserved the win as they have battled hard all season and have been competitive in every game but 1. Well done!
Natasha had a fantastic game as she ran many many kilometres working hard both in defensive and attack and controlling the midfield. Another game of getting pushed and shoved but keeping her compusure and helping her team to a great win.
13/01/2018
v La Roca – Sometimes sport is just not fair. After fighting for a win all season, Cabrera played the best game of their season against a very physical La Roca Peña and Cabrera clearly outplayed the seventh placed team for all but 10 minutes of the game. Cabrera had about 10 shots on goals to La Roca´s 3 and approximately 80% of the game was spent in La Roca´s half of the field with Cabrera attacking but La Roca managed one fortunate goal to win 1-0.
Natasha received a knock to her knee within the first ten minutes of the game when she was chopped down while dribbling the ball forward. Her sore knee clearly restricted her speed and her running but she still played on and played a very strong game. She had 4 shots on goal and created some strong attacks but she will be better next week when her knee has recovered.
18/12/2017
v Font Santa – Well they say a week in sport is a long time and while it is two weeks since Cabrera last played, within those two weeks there was a change of coaches as the pressure is mounting for Cabrera to remain in first division for next season and it doesn´t get any easier as they prepared to play against the determined Fontsanta-Fatjo team. It was a torrid battle against two very evenly matched teams with a defensive slip up in the final minutes costing Cabrera as they narrowly lost 1-2.
Natasha continues to play very good well rounded football as she wins tough football, presses hard defensively, maintains possession and distributes well. She even created a very near miss at goal however, she still hasn´t managed to help Cabrera to their first win for the season.
09/12/2017
v RCD Espanyol – It was always going to be a difficult game as Cabrera came up against the first placed team Espanyol after the previous 2 weeks playing against Girona and Barcelona. The team had improved every week up until this week and unfortunately were taken to pieces by Espanyol in the second half of the game. At half-time the score was 2-0 to Espanyol  with one of the goals from a needless penalty. However, a couple of changes and an injured goal keeper resulted in Espanyol scoring 8 second half goals to win 10-1. While Espanyol were clearly the better team Cabrera were probably better than the score suggests.
Natasha´s game wasn´t quite as strong as in previous weeks but she played very well and had a tough battle with the number 10 for Espanyol. She did some very good defensive work and very few players from Espanyol took her on as they seemed concerned with her speed and agility. She ended the game quite sore after being chopped several times in what was a very physical game for her.
26/11/2017
v FC Barcelona – Another week and another level of improvement is reached as Cabrera battled valiantly and were very competitive against the mighty FC Barcelona. In fact Cabrera created more scoring opportunities in the first half and won the second half 1-0 and were competitive all game only to have a 5 minute lapse in which the impressive Bruna Vilamala scored 4 goals to secure a 2-4 win. However, Cabrera created numerous chances on goal and should be very proud of their performance. They continue to improve and a win is only just around the corner with the return rounds looking promising if they continue to improve at this rate.
Natasha returned from her sickness last week and had a very strong game in the midfield with some strong runs and good defence in what was a very strong performance by the entire team.
18/11/2017
v Girona – Cabrera continued improving this week with a game that was dominated by a willingness to play passing football. However, they are also learning that every week is a battle in first division U19 as they played a very strong Girona team. In what was a very evenly matched competition Cabrera went to the lead with a well fought goal from Andrea only to gradually let the game slip away as Girona scored a second goal late in the game to take a 2-1 win. It was another tough game where the team fought hard until the end but without a result and it doesn´t get any easier as the next 2 games are against FC Barcelona and RCD Espanyol.
Natasha trained extremely well all week and based on her recent form was going to be a key player in this game however she was struck down by a virus that resulted in her vomiting all night on Friday night and unable to get out of bed on Saturday and therefore unable to play. Hopefully she will be well for the coming weeks.
12/11/2017
v Manu Lanzarote – Another week and another improved performance by Cabrera as they attempted and did actually play a much better style of football and at times they looked very impressive. However, they didn´t do it often enough and two gigantic defensive errors cost two goals. The positive is that Cabrera were very competitive against 5th place Manu Lanzarote and only lost 1-3 with the two defensive errors costing them dearly.
Natasha backed up again to play another full game this week and gave another very impressive display of football technically, tactically and physically. She scored a cracking goal midway through the first half as she intercepted a pass around the half way line then dribbled to the area where she dumbfounded 3 defenders and shot a beautiful goal that took Cabrera to a 1-0 lead.  She continued to play quality football but was unable to help her team to a win.
04/11/2017
v Santa Susanna – In only a week the coaches did a fantastic job in getting the Cabrera de Mar team to try to play football instead of simply kicking the ball forward. This was a game against a very talented and physical Santa Susanna who finished fourth last season, and the game was an absolute battle from beginning to end. Cabrera were trying to play a passing style of football and while precise execution was missing at times the football was certainly much better than in previous weeks which also resulted in more attacks on goals than in any previous game. During the game Cabrera created seven high quality opportunities on goal but could only convert one eventually losing 3-1 but a huge step forward towards the improvements needed to win at this level.
Natasha had an extremely good game as 15 minutes into the game she was given the role to cover one of Santa Susanna´s best players, actually a player that only last season declined an invitation to play with FC Barcelona. We saw Natasha use her speed, strength and football skills better than ever before to dominate the player nearly taking the ball from her at will but it still was not enough to help her side to a win but a quality and hardworking performance as the highlights show.
29/10/2017
v Reus – A midweek friendly game against a German U16 club side looked promising as Cabrera played some fantastic football to comfortably win 3-0. However come game day and the mentality of the team changes as they play a panic stricken football that is nothing like what the coaches spend the entire week teaching them. This week they played Reus which is a team they were probably capable of beating but the football was extremely poor as too many players didn´t play team football.
Natasha, had a very good game winning alot of balls and always looking to pass and create opportunities for her teammates. She had over 40 touches of the football in about 60 minutes of game time but it unfortunately very few of her teammates were willing to play a similar type of controlled and measured football.
21/10/2017
v Igualada – Another week and another difficult game for Cabrera as they are beginning to realise that playing first division football means every week is a difficult game against teams that a very skilful and well drilled. This week was no exception as Igualada played a very composed and high quality football to dominate the game from start to finish and win 3-0. Cabrera had a fantastic training week and everyone is clearly working hard to improve but they will require even more hard work as they move towards another difficult game next week.
Natasha, after two weeks of sluggish performances which she attributed to a change in her game day breakfast, returned to the breakfast that she has eaten for years and returned to the quality football we have become used to seeing from her. While she didn´t receive alot of football in this game she was very composed and skilful and created some penetrating attacks. She had the only shot on goal for Cabrera missing narrowly to the left. Great to see her back to normal.
15/10/2017
v Europa – Cabrera were again reminded how tough first division football is as they played against the winless Europa. An early goal to Europa was a setback but to their credit Cabrera kept trying to play their passing game during the first half. The second half saw a return to more individual play and many turnovers to Europa and Europa maintaining their 0-1 lead to win their first game of the season and Cabrera with still alot to work on.
Natasha again had an uncharacteristically sluggish performance with some heavy touches and inaccurate passes. She has changed her game day breakfast for the past two weeks which clearly hasn´t worked so she will be returning to the game day breakfast that has seen her play some amazing football in recent months.
08/10/2017
v Cerdanyola – Second game of the season saw an improved performance from Carbrera as they played a very competitive game against Cerdanyola. It was a game of two halves where Cabrera clearly dominated the first half and went into the break leading 2-1 but could have easily been 5-1 or more as Cabrera hit the post 3 times. However the second half saw Cerdanyola lift and dominate slighlty scoring the equalizer for a 2-2 final result.
Natasha had a solid game with two key passes and some quality football however she did have some uncharacteristic heavy touches but still a high quality game from Natasha.
30/09/2017
v Damm – The competition begins and an extremely difficult first game for the Cabrera de Mar team as they played highly fancied and well coached Damm. Cabrera knew it would be a tough game and unfortunately they didn´t play their best game as many of the girls made mistakes they would not normally make. It appeared many of the Cabrera team were extremely nervous for their first game against a highly rated team in first division and unfortunately didn´t play the controlled passing game that they usually play. However they did fight hard to finish resulting in respectable 3-0 loss.
​Natasha did not receive much of the football but when she did she played her usual calm passing style of football however on this day Damm were just too strong
Light Training Session
As Natasha is back in full swing and training hard we took some video of her training today. These few clips were taken following a short but intense speed component and the drills were mainly aimed at shooting/attacking goal.
​It is important for us to get this week correct because the competition begins on the approaching weekend and the first game will be one of the most difficult games of the season as Cabrera de Mar face a very strong Damm team.
Trial Number 2
v Cerdanyola – Natasha played her second friendly game with Cabrera de Mar and it was against Cerdanyola open women team. The game ended in a 2-2 draw but was somewhat disappointing as they played some absolutely outstanding football in training during the week but didn´t reproduce anywhere near the same level of football during the game. Hopefully they will get their game heads on soon and begin to play the outstanding football in the games that they have been displaying in training.
Natasha started this game for Cabrera de Mar and she was outstanding as she played a good quality of technical football and looked composed at all times. She also score the first Cabrera goal and assisted the second goal for a first class performance.
Trial Number 1
Natasha played her first friendly game with her new team Cabrera de Mar against a local open womens second division team called Martaro. While Mataro weren´t particularly strong Cabrera looked to play football continuously and showed lots of courage and skill in finishing comfortable winners 6-0. It was a very encouraging performance with a full team mentality to play football and some very strong football players in the team. They team should also improve significantly as they learn how each other play and develop more cohesion. It was a very positive start to season preparations.
Natasha came off the bench playing about 55 minutes and was very strong in displaying all facets of her game including some very good penetrating runs with the ball, quality ball wins, astute key passes and 3 shots on goal resulting in one goal. It was a very strong display from Natasha which should improve as she becomes familiar with how the team plays.
Team decided Season 2017/18
Natasha has decided to play the 2017/18 season with Cabrera de Mar in U19 first division in Barcelona, Spain. After a 1 month trial with Damm CF, a selective team who finished 2nd only to the mighty FC Barcelona last season, Natasha was told she was clearly at the level, which was obviously clear to everyone, but they had already signed 26 players in their squad which meant there was not any more room for another player. The objective for Natasha for this season is to play alot of game time in her favorite position of midfield and Cabrera de Mar have been super keen to sign her since they knew she was available. Cabrera have just been promoted to the U19 first division, have a group of tough spirited girls and a good senior coach where Natasha will get alot of game time and can help the team be competitive for this season
Season 2017/18 pre-season has started
The 2017/18 pre-season has started for Natasha. As she returned from the Australian U17 training camp she had only one day rest and was back in training as she continues her trial with Damm CF U19A team. She completed a solid week of training that saw her complete 2 games as well. In both games she played in the midfield and Damm won the first game 0-12 and the second 1-0. In the first game Natasha played very well in controlling the midfield to the point where the opposition coach put a player on specifically to mark her. In the second game she was not so dominant but still did many good things and was a solid contributor to the teams performance even creating a fantastic goal opportunity for the striker. The coming week will be another big week of training which includes 3 games on the weekend.