SEASON 2013/14 Summary
Valencia A Infantil Feminino have finished the season equal first with Levante A but have to be content with second place due to the goal difference. Still, a fantastic result from a very skilful team and apparently the best result from a Valencia Infantil girls team in recent years. The season started with some very positive football and the team not being scored against until about game six. However, a tactical meltdown against the top side, Levante saw them concede 5 goals in one game, this resulted in Valencia leading the competition at the half way point of the season with only one loss and all the other games being wins. The second half of the season was a mixed bag as they outplayed and defeated the leading team Levante not losing a game for all the return rounds but managed to draw against the second last team and their sister team. A win in either of these games would have won them the competition. A tough result to only lose one game all season but have to settle for second place. Anyway still a great effort and a pleasure to watch some great football being played by many talented young girls.
Natasha continued to improve throughout the season and with her experience, precision, versatility and athleticism managed to score many goals, I think about 8 in total but more importantly she made major plays and had a key influence in the big games as she scored the winning goal to break the draw against Villarreal in the first round then was placed in the midfield with Marta to control the game to the finish. Against Sporting Plaza she won a corner that resulted in a goal to create a draw away from home. Against Levante she played the key ball that set up one of the most impressive football goals I have ever seen. They went on to win that game 2-1 and in the second round against Villarreal she created the first goal and scored the second to seal a 2-1 win.
During this season she also got stronger and can now squat 80kg. She can run her 40m in 6.26s and did the illinois agility test in 17.09s. Truly impressive from a girl who has only just turned 13 years old.
Now the challenge is to continue her development and transition her skills to the big field as she progresses to 11 a side football.
Game Statistics
Here are Natasha´s statistics for each game. Statistics were only done on games that had video. Some games games weren´t videod due to bad weather. There is also a rating of how she placed statistically compared to the rest of the team. As you can see she placed first 9 times in 15 games which is amazing considering she played the least game time of anyone. We realise that statistics don´t tell the entire story but with about 6-8 goals and many assists and many more should be assists and goals she had a great year but watch her highlights video and decide for yourself.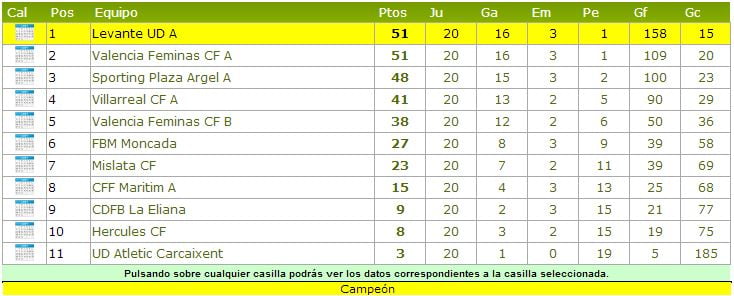 06/04/2014
​
v Villarreal A – 
A tough game against the 4th placed Villarreal A team and requiring a win for Valencia to remain any chance of winning the competition, it is then difficult to understand why the coach would start 4 of his 5 most experienced players on the bench. Even more bizarre when one of the most junior players (on the field) was clearly injured and another player clearly exhausted after a long season and a tough midweek game with another team. The result was an early goal to Villarreal and an up hill battle for the rest of the game. Fortunately as the Valencia´s experienced players entered the game they began to take control. Valencia scored their first goal after a pinpoint accurate cross from Natasha was headed into the post from Sandra but then she goaled it from the rebound. The winning goal for Valencia came from a hopeful cross from Marta seeing Natasha running on to the back post with a lovely strike on the volley to score the game winning goal as she did against Villarreal in the first round. Therefore, including the lead up play with Mireia, not surprisingly three of the most experienced players combined to seal the game. So while Natasha didn´t see heaps of the ball and to be honest it wasn´t her best game technically, she created the first goal with a pinpoint accurate cross and scored the winning goal for a 2-1 win in a critical game against one of the top teams. It would have to be an MVP performance from her in a very tired looking team
.
29/03/2014
v Moncada A – Back to the form expected from a Valencia A team with a 7-1 victory against the middle of the table Moncada A. Natasha had a superb game playing left lateral defence in closing down every attack that came her way and delivering some beautiful passing football. She actually created the first goal and was statistically number one for this game being the best in every statistical category with 36 (86%) completed passes and 7 ball wins.
22/03/2014
​v L' eliana A – After a magnificent win against the competitions strongest team (Levante) for many seasons in their last game and a week rest for Valencia´s biggest festival, Valencia A were disappointing in a game they dominated but failed to score sufficient goals from many attempts to win the game. Combine that with some significant defensive errors again and more questionable coaching and Valencia A drew 2-2 with the second last team in a game that could have just cost them any chance to win the premiership. We are still yet to see the Valencia A team field their 5 most experienced players at the same time and some of the more experienced and physically and technically better players playing noticeably less game time than their more junior teammates. While the first half of the season resulted in only one loss and all other wins the second half of the season has now seen  the Valencia A team beat first place and last place but draw three other games.
Natasha had another strong game creating many opportunities and passing the ball well. She managed 3 shots at goal with one missed, one saved and one hitting the crossbar. However, she continues to improve as she refines her controlling touch and is more willing to take on the defence.
09/03/2014
​
v Levante A – 
A top of the table clash which held high importance as the Valencia A team played competition leaders Levante A. A win would mean Valencia would be back in the title race and tie for the lead with Levante. A loss would mean Levante would be virtually guaranteed to take the title again. Valencia fielding a side rattled by injuries with 3 players unable to play due to injuries, two playing injured and two had injuries during the week but appeared ok on game day, meaning only 4 players in good condition and with only one reserve. However, the coaching again was puzzling as the coaches replaced fresh players with injured players and didn´t make frequent changes hence resulting in clear signs of fatigue early in the second half. But despite the poor coaching the Valencia girls fought like crazy and after a 0-0 first half they came out from the break looking comfortable that they could match it with Levante.
About 10 minutes into the second half Valencia defended their goal with little Paula winning the ball and passing it to Natasha at the top of their own area. Natasha took a turning touch and advanced the ball quickly, drawing the defence and playing a magnificent 40m ball on to the feet of the winger Marta who crossed to the feet of Carlotta who beat a defender to the ball and played it into the back of the net for a 1-0 lead. A more clinical goal you will not see in any level of football. Every touch of the football perfect, every decision the correct decision and every execution precise to result in a length of the field play and a perfect football goal. The second goal while not the length of the field was equally impressive in terms of the quality of football skill for a 0-2 lead. Levante scored a late goal to close the gap but a win to the Valencia girls and now both teams are tied for points at the top of the table with four games remaining.
Natasha had a very strong game creating the first goal with an amazing ball played forward again producing a key play in a critical game as she did against Villarreal. She is showing that she is quite comfortable with the speed and the quality of football at this level and in this game even tried some more aggressive runs with the ball and some great defensive work.
28/02/2014
​v Valencia B – Valencia A played their sister team and 4th placed team Valencia B in what should have been a difficult game but an expected win. However, a 2-2 draw was the result. Valencia B goals came from catastrophic errors by two individuals in the A team. While the A team dominated play with many shots on goals most were straight to the goal keeper. Natasha was off her game slightly with some poor touches but had two nice shots at goal with no result and did some lovely defence. It seems to me the biggest problem in the difficult games is that the coach fails to play all his most experienced athletic girls together for any period of the game and also makes some very costly coaching decisions too. I guess it shows he still has alot to learn. (No video this week due to bad weather)
22/02/2014
v Sporting Plaza A – A very tough game against third place made more difficult by the circumstances whereby the girls had to wake up early and be on the bus by 7:30am to travel over 2 hours to get to the venue. That along with the fact that the game was very fast with all the opposition girls being big, strong and fast with the ability to play football saw many of our girls struggle to play to their usual standard with only 3 of our girls comfortable with the speed and physicality of the game. Natasha had a very good game and created all sorts of problems for the opposition when she was on the field. One attacking run from half way won a corner and resulted in a goal. Having said all that a 2-2 draw was probably a fair result on the day.
16/02/2014
No video highlights this week as it was raining and I didn´t want to damage the camera but the Valencia A team had a very impressive victory against sixth place, winning 10-0. Natasha played a very good game and scored a lovely goal but a strong team effort resulted in a great victory.
09/02/2014
​v Carcaixent A – The first game in the return rounds and the Valencia A team produced a convincing 0-11 win as expected over the last place team. Natasha had a very solid performance with 1 goal, 1 assist and what should have been at least another two assists.
02/02/2014
No Game for the Valencia A girls this week as the first game of the round is a bye so we did a few athletic performance tests for Natasha to see how she is going. Here is the video of her 40m speed test which she ran in 6.26s. Very impressive and improved 0.6s from June last year which is a great improvement. For her other tests go to her 
PHYSICAL
 page. She also completed the Illinois agility test in 17.09s which was another fantastic result.
26/01/2014
v Mislata A – As Valencia A secured first place at the half way point of the season with only one loss, Natasha played this game in defence to help the team keep a clean sheet and win a game they were expected to win. She covered every attack that came her way with some lovely reading of the play and some astute passing. The team started very slowly and the score probably wasn´t an accurate indication of how close the game was but the girls kept their composure and kept playing football to take the victory. With plenty of work still in front of them it is a nice reward for a good first half of the season.
---
19/01/2014
​v Hercules A – A game they were expected to win and while it was never in doubt a 1-0 lead at half time and a win of 5-1 was not as convincing as they would have liked considering they had 45 shoots at goal. Another good game by Natasha winning some good ball and completing her passes
12/01/2014
​v Villarreal A – With only six points separating the top 5 teams, a draw between first and second place meant that if Valencia (3rd) could defeat Villarreal (4th) they would take first place once the ladder was adjusted for draws etc. The difficulty was that the game was at the home of Villarreal and Villarreal are always difficult to beat at home. After a hard fought battle with both teams exhausted, Valencia prevailed winning 3-5 and dominating for most of the game. Natasha scored a lovely goal, which you can see in the highlights, that broke the 3-3 deadlock and really won the game. She also played a very good game of football as her speed and technical skills really shined in this game. Valencia should win the next two games and go into the half-way point of the season leading the competition. Great effort.
05/01/2014
​v Moncada A – First game back after a long Christmas break and while the entire team was a bit rusty including Natasha they produced a good solid 6-2 win. Natasha had a sound game but had sore legs and knees after a very inactive Christmas break.Having this short break will allow her to work really hard for the rest of the season.
24/11/2013
​v Valencia B – Natasha´s team played their sister team Valencia B and after a poor first half finishing 0-0 they played much better in the second half for a 5-0 victory. Natasha had a sound game with some lovely snippets of football but not too many opportunities.
17/11/2013
​v Sporting Plaza A – The top of the table clash for Natasha´s team this week in a tough game that eventually resulted in a 3-0 victory. This takes them to the top of the table with one game in hand and still having scored more goals than any other team and they have not conceded a goal. Natasha was a little quiet in the first half as she did not see much ball but was very unlucky not to get an assist and a couple of goals in the second half as she continued to play quality football.
10/11/2013
​v Maritim A – Natasha´s team absolutely dominated a much stronger team this week with some very good football. Natasha had a quiet game by her standards but still created one goal in a solid game.
04/11/2013
Natasha´s team played there first game of the season after a 1st week bye. A big win resulted from a huge mismatch between the teams, with alot of Natasha´s team using the game for goal shooting practice instead of developing their football playing practice which they will need against the better teams. Natasha did play football with some very astute passing and that will surely hold her in good stead for the more difficult games.
20/10/2013
​v Valencia B – Natasha had an absolutely outstanding game today. The best game we have seen her play with supreme quality in everything she did. The video highlights will show this and it is supported by her statistics with 21 effective uses of the ball and only 2 ineffective. 4 ball wins and no losses. 1 goal and potentially 2 assists. Quality.
22/09/2013
v Levante (friendly)
Natasha played a friendly match against a very strong Levante team this weekend. She played striker for the first time in a number of years and was a strong presence up front. No goals but 2 opportunities and some very nice play.