Season 2016/17 Summary Well well well, what a interesting season 2016/17 turned out to be. Natasha decided she would play another season at Levante Las Planas because she had enjoyed and improved so much during the previous 2015/16 season. She was selected to play in the U19A team which meant she would be playing against the likes of FC Barcelona, RCD Espanyol and Damm CF which includes some of the best U19 footballers in the world.During the season Natasha improved many aspects of her game including her running game and her ball control in tight situations. She also improved many physical aspects such as her strength and speed. Her speed clearly troubled many of her opposition as it could be seen that they were clearly uncomfortable when Natasha was running at them at high speed. However, the coaching was not particulary helpful and in a team where she could have improved more the coaching failed to help her make those improvements. She also didn´t get to play as much time as she would like in her favored midfield position.​​At the end of the season Natasha received invitations from 4 different teams for next season. Three of the teams are U19 first division teams in the Barcelona area and one is a new team with an international style program. Natasha has chosen to begin a trial with the most highly regarded team as the coach is a very good coach and often gets her players to play well above their normal level. After one training session the trial became a two week trial, Natasha was then invited back to trial for the entire pre-season with the team. This selective team does their selections before the end of the season and have never invited anyone to trial during their pre-season. The coach has already said "I like many things about how Natasha plays football".Natasha finished the season with 4 consecutive days of football at the Donosti Cup and a week training camp with the Australia U17 team. A fantastic football experience where she was able to culminate all the skills she had worked hard to develop throughout this season. What was looking like a disappointing season finished amazingly with some of the most amazing football experiences Natasha has ever experienced.
Donosti Cup 2017 ​As mentioned previously, Natasha was invited to play in the Donosti Cup with newly formed club, Women´s Soccer School of Barcelona or WSS for short. The club has only recently formed and they quickly gathered enough girls for an U16 and U18 team but had only two weeks to prepare the teams for the very highly regarded Donosti Cup where teams come from all over the world come to compete. Natasha played in the U16 team which was a team with players of mixed abilities but the coaches did a fantastic job to make them quite competitive in such a short period of time. The U16 made it through to the finals where they were knocked out by eventual winners and very skilful and well coached Athletico Madrid but a great effort from a team that was not selective and only had 2 weeks preparation.Natasha had a great tournament playing plenty of game time and displaying her full variety of skills as she scored a goal, had an assist, gave many key passes, won numerous 50/50 ball, dribbled evasively and much more. Below is a video of her key highlights and below that are the game specific highlights.Donosti Cup 2017  Highlights​
Game 1 – WSS v Belgium: ​Against a team from Belgium that included so many National players that it was referred to as the Belgium National Team and they were a very talented and cohesive team. Some disgraceful referring spoilt what should have been a very competitive game with WSS unlucky to lose 3-1.​Natasha played well but had very little time with the ball as Belgium closed down play very quickly. The battle between Natasha and Belgiums very talented midfielder was the highlight of the game.
Game 2 – WSS v Intxaurdi : ​Against a local team from the San Sebastian area began as a challenging game but after half time the team settled and began playing better football to eventually win 5-1.Natasha played very well in this game as she controlled the middle and orchestrated her team to play more controlled football.
Game 3 – WSS v Hernani: ​Against a local team from the San Sebastian area but it was a game where second played 3rd to see who progressed to the final stages. It was a tight game, however WSS dominated the game winning 1-0 but really should have won by more.By Game 3 Natasha was lgetting comfortable with her team and role within it and in this game she was amazing. She played at a different level to everyone else around. She was so impressive that following the game she was asked by a teammate for her autograph.
Game 4 – WSS v Athletico Madrid: ​Against the mighty Athletico Madrid and it showed the difference of a selective team that has played together against a non-selective team that had two weeks preparation as Athletico dominated the game from start to finish winning comfortably 3-0. But well done to WSS as the were knocked by the team made the final. What a great effort.Natasha rarely got the ball in this game as Athletico totally dominated the game. She did some very nice work which was missed by the cameraman also. Therefore her highlights against Athletico are very brief but to create good play without the ball.
Photos from Donosti Cup 2017
18/05/2017 Natasha had a goal to be able to squat 150kg before the end of June 2017. Here she is doing a Single Leg supported half squat with 130kg plus medium bands for 2 repititions. So the front leg does all the work and squats until about half depth while the back leg just stabilizes to keep her steady and it does very little work. The black bands create an increasing resistance but are generally regarded as about 10kg resistance each and the fact that she does 2 repetitions off each leg suggests that we could safely say she has achieved her goal in being able to do the Single Leg half squat with 150kg. An incredible effort considering she weighs 55kg and is only 16 years old lifting nearly 3 times her bodyweight on one leg.
20/05/2017 Below is a video of Natasha doing a 40m run through at about 85% and looking good for speed and run technique. If you go to the Physical page you can see a fantastic video of her progression in speed from the age of 11 years. It is very interesting to watch.
26/05/2017 v FC Barcelona – The last game of the season and Levante Las Planas had gotten themselves into a position where they needed an outright win to avoid relegation. The real challenge was that the last game of the season was against a full strength FC Barcelona whose superstars had just returned from a 2nd place at the European Championships and who had not lost a game all season. While not impossible it was always extremely unlikely especially the way Levante had been playing and that is how it turned out to be, Levante were convincingly beaten 2-8 and so were relegated from first division to second division. Natasha played the final 20 minutes and while she had a few lovely plays she received very little football. However, she now goes on to prepare for the Donosti Cup where she will play U16 for Womens Soccer School of Barcelona against teams like Belgium and Paris Saint Germain.
20/05/2017 v Cerdanyola – Congratulations to the team!!!! Finally a decent win. Levante played 9th place Cerdanyoles and won. Levante were completely outplayed for the first 10 minutes but hung on and were lucky not to concede a goal but they settled into the game and fought hard in what was a very even game however Levante possessed a finishing ability that Cerdanyoles did not possess and won comfortably  0-4 in the end. Natasha was happy for her team but disappointed that she did not get played by the coaches for this game. She didn't get to play even one minute of game time. After playing some high quality football against the highly regarded Espanyol it is difficult for a young footballer to understand why they then don't get any game time the following week against a much lesser opposition.
Mid May 2017 Natasha traveled to Orlando Florida with her family for a work conference and while there wanted to continue to train her football because of the up coming game against Espanyol when she returned home. She was fortunate enough to be invited to train with the U17 & U18 girls at Orlando Pride under the coaching of Sam and Dan. While Natasha found the training challenging due to the natural grass surface and the different training and football style, she really enjoyed the time with the Orlando girls and the coaching of Sam and Dan. Thanks very much for your hospitality Orlando Pride.
13/05/2017 v RCD Espanyol – A game against the second place and the very skilful Espanyol was always going to be a difficult game especially considering the current form of Levante Las Planas and that is what it turned out to be as Espanyol played a very controlled, calculated and composed football while Levante played a kick and chase football. Levante lacked structure and positional play to eventually lose 1-5. Initially Levante were competitive but following some positional changes and reverting back to the kick and chase football their game deteriorated the longer it went. I must emphasize that while the results are not coming for the team there is no question on their effort as they arrive every game and fight all game. Only two very difficult games left in the season so we hoping for some positive football.Natasha played on the wing again and did not receive much football, mainly due to Espanyol dominating posession however she defended well forcing many turnovers and the few times she received the ball she took on the defence and delivered some quality passes forward.
06/05/2017 v Fontsanta – Well, again it was a week of decisions that were difficult to understand. The game plan of the team is to play the balls forward in front of the wingers and for the wingers to run onto those balls and cross them in for someone to score a goal. They trained that process all week but come game day, the two players that trained in the wing position all week didn´t even start the game. Two players that had trained in the midfield all week began on the wings (go figure) and one of the wingers came on late in the game in the midfield???? Levante were outplayed for a large part of the game which was a game that lacked any real quality and let in 2 goals from some massive defensive errors eventually losing 3-2.Natasha was one of the players that trained as a winger all week and was only played for the last 25 minutes of the game, and when she came on she was played in the midfield (go figure). However, when Natasha came on Levante were losing 3-1 with Font Santa comfortably controlling the game. Natasha to her credit brought a really energy and skill and changed the game. Levante went from being controlled by a football playing Font Santa to absolutely dominating them, scoring one goal and missing about 5 other opportunities. Well done Natasha.
30/04/2017 v La Roca – Finally a win! However as we have seen this season, to win consistently, good football is the most important requirement and this week again Levante did not play good football. In what was a relatively even game La Penya Roca were always looking to play football while Levante were kicking the ball up the wings. Levante managed a goal while defending La Penya Roca to only one attack on goal which was an off target long range shot for a 1-0 win. Clearly the team is struggling to get their passes accurate but with a game plan that consists of kicking the ball up the wings it is hardly surprising. The team continues to put in great effort.After not even getting on the field last week, Natasha began the game this week and played in her favored midfield position (go figure???) for only the third time this season. While her timing of passes was a little bit off, as the first half continued she began to dominate the midfield with some exquisite control and winning the ball by reading the game. Clearly the most effective midfielder of the first half.
22/04/2017 v Reus – Well we would like to report that Levante Las Planans U19A improved on last weeks performance however we cannot. While the game ended in a 2-2 draw with the 8th placed Reus, Levante were outplayed for most of the game and played poor football but where fortunate for a good goal from Laura but some poor goal keeping from Reus. Also a massive defensive error from a Reus defender that conceded the second goal. On the other side, Reus´s second goal was outstanding. It came from a passing sequence that began in their defensive line and went all the way up the field across the midfield and then crossed to the back post for their striker to tap in. Again it was difficult to understand the coaching methodology as Levante were clearly being beaten in the midfield for the entire game yet 3 midfielders remained on the bench for the entire game and one of which is also the teams best athlete. After creating 9 goal opportunities last game which was more than double of any other player, Natasha did not even get to play this game as she sat on the bench the entire game. It is the first time in her 10 years of football that she has remained on the bench for the entire game. Hopefully she will get to help her team next game.
08/04/2017 v Pontenc – Unfortunately it just goes from bad to worse for Levante Las Planas U19A as they played 3rd last Pontenc who have struggled with form and injury throughout the season yet Pontenc won 1-4. The injustice of the game was that Levante did play some good football, in fact some of the best football they have played all season and they totally outplayed Pontenc but some massive defensive blunders along with positional errors meant Pontenc were gifted some of their goals while Levante had numerous shots at goal but just could not score. Laura the number one goal scorer didn´t play which didn´t help but they had a key midfielder return from a higher level team to play but still no win.  It is very difficult to understand the coaches methodology when they play a central defender in the midfield who has not played midfield all season while they have 3 quality midfielders and I emphasize quality, playing in other positions. Natasha played very well and again was involved in many many attacks on goals. In fact she was involved in 9 attacks on goal, more than double of any other player yet was replaced with 20 minutes remaining while players that had made very little opportunities played the entire game. However she does need to start converting some of these opportunities to goals.
01/04/2017 v Sant Gabriel – This game was the now 10th position Levante Las Planas playing 13th position Sant Gabriel, two teams that normally fight for 3rd and 4th position. Both teams clearly struggling for form however Sant Gabriel cruised to a 4-2 win as Levante struggled to play any semblance of football. Levante players appear to be unsure of what their fellow players are going to do and how they are going to play. The players are unsure how to play their positions along with players playing out of their natural position and from the sideline there appears to be very little quality instruction from the coaching staff. The team is sadly out of form with no sign of improving. Natasha was the stand out quality player of the first half as she won free kicks delivered quality passes, had a cracking shot on goal and created 3 other goal opportunities for the team. In fact Natasha created most of the attacking opportunities of the first half however was still replaced at half time. Unfortunately due to camera troubles only the first 10 minutes of the game was videoed
25/03/2017 v Vic Ruiprimer – Well the issues continue as Levante Las Planas were defeated by 7th place Vic Ruiprimer 1-3 at home. To be fair to Levante Las Planas they did play the better football and looked like the better team for most of the game but again failed to put the ball in the net after creating numerous chances. The problem continues where the midfield does not control the middle and are positionally out of place nearly all the time. The coach plays the striker in the midfield for the first half of the games where she clearly is not good instead of playing her at striker where she nearly always scores a goal. While the striker scores most of the goals, rarely passes the ball when close to the goal bombing many many chances and costs the team more goals then she scores. The coach has alot of issues to sort if he is going to have this team raise from there current 10th place. Natasha had an up and down game doing some things well but doing other things poorly. She certainly didn´t play with the class she did the week before but she created two clear goal opportunities and displayed some nice one touch passing showing why her best position is most likely midfield.
18/03/2017 v Damm – This week Levante Las Planas took on the might of third placed Damm who are having a very strong season. It was always going to be a difficult game made all the more difficult because Levante began the game with 3 of their strongest ball playing footballers on the bench two of which are also two of their strongest athletes. The game began very even with Levante playing their strongest football of the season and at times dominating Damm. At half time the score was 2-2 and rightly so. During the second half Levante dominated Damm completely and spent most of their half attacking Damm´s goal but just could not score with the end result a 3-2 loss, which also sees Levante drop to 9th position on the table. Natasha only played the second half but had a fantastic game with many quality touches and penetrating attacking runs, winning free kicks, taking balls from players and absolutely troubling the opposition with her speed. She had two shots on goal, one of which was cleared off the line and she looked absolute quality. However, the coach and team still haven´t realized her speed and don´t play any decent forward balls for her to run through the defence and shoot at goals. Actually, Natasha had such a good game that 4 different people approached her after the game to tell her how well she played. One of those was a coach of a selective team in Barcelona.I didn´t get any video because the location doesn´t have any elevated vantage points. However, one of the parents did take this photo of Natasha being hacked from behind for which she received a free kick.
12/03/2017 v Seagulls – Natasha played 2 games in two days as she helped the Levante Las Planas open womens team. Unfortunately the standard of football wasn´t so great as they faltered to a 0-3 deficit after only 16 minutes and the score remained that way until the end of the game. Natasha played a very good game and showed some high quality skills and precise passing. However, most interest came when she returned to the field for the last 10 minutes to play striker. Natasha has never played striker before but she changed the game as Levante went from being dominated to dominating as she generated many attacking raids and won alot of posession. When at striker she looked absolutely outstanding. Is she a striker????
12/03/2017 v Santa Susanna – Last week this website warned that Levante Las Planas needed to fix some issues if they were going to be competitive against the good sides. Mainly playing a better quality of team football under pressure and for the strikers to play more team football and to score more goals. We also mentioned that the competition is tight and with one or two losses they could drop many places. Well, unfortunately our words rung true as Levante lost to a very solid football team in Santa Susanna. Levante continually looked to play football but missed too many passes. They also allowed some very easy goals and missed some very very easy goals. Actually, overall Levante outplayed Santa Susanna and created more goal scoring opportunites but the Levante strikers could not convert enough goals to win while at the other end 3 soft goals cost them the game. After this round has finished they could find themselves in 8th position with a game against 3rd place next round. Natasha started in the midfield and got half a game. Midfield is her favoured position and she took some nice touches and won plenty of good ball. She played a very solid game with her last 10 minutes of the first half a very high quality as she began to get familiar with the midfield game again after only having played very little game time there this season. Therefore it was a little surprising that she didn´t get some game time in the second half as it was almost certain that she would continue to improve with more game time in the middle.
05/03/2017 v Vilafranca – Levante Las Planas played last place Vilafranca in what was probably the most important game of their season. A loss would drop Levante to about 10th position while a win could take them back up to 4th position. Two big defensive errors after only 5 minutes and Levante were losing 2-0 and things were not looking good. However the team fought back to level at 2-2 just before half time and scored the winning goal midway through the second half for a 2-3 win. While the team fought hard the entire game and continually looked to play football there are still many issues which need to be fixed. Such as some players with very poor passing ability and a striker that rarely ever passes the ball and continually loses possession. While it is great that the team has returned to fourth place, it is a very tight table and they cannot afford to falter. While beating last place unconvincingly is not the confidence boost that was needed. Natasha returned to her quality football again this week after fully recovering from her tired performance last game. She had some quality runs and extremely high completion rate, was strong in defence and moved very nicely athletically. She was a little conservative in her play and should have attacked the opposition more often but it was a very strong and high quality performance.
18/02/2017 v Manu Lanzarote – Levante Las Planas played mid table team Manu Lanzarote in what should have been a difficult but comfortable win. While Levante outplayed Lanzarote for most of the game and created more opportunities on goal they failed to score while Lanzarote did score from one of their few scoring opportunities winning the game 0-1. It was another loss to a lower placed team which has happened a number of times this season already. Other results went in favour of Levante on the weekend and a win would have seen them move up to fourth place, however this loss sees them drop to seventh place and another loss like this could see them quickly drop to eleventh position. After a number of weeks of playing some very good football, Natasha was clearly off her game with some very poor touches and with everything appearing to work slowly for her from her decisions to he running. It is probably understandably so has she has moved house, been really busy with her schooling and has been sick with a cold. She did create 3 very strong attacking opportunites but just wasn´t the fast and precise Natasha that we are used to seeing.
12/02/2017 v Sabadell – Levante Las Planas played last place Sabadell. However, as with most top level leagues every team is capable of winning on their day, so Levante had to play well in order to win. At half-time the game was evenly poised at 0-0 and it was quite unimpressive football. The second half resulted in some better football and 3 goals to Levante in what was eventually a comfortable 0-3 victory. Other competition results favoured Levante and they are now well and truly back in the race for fourth position but they cannot afford to falter as the competition is very tight. After a great game last week playing on the wing and in midfield and creating the most attacks and goal opportunities of any player in the game Natasha spent the first half of this weeks game on the bench. Go figure??? The half-time score was 0-0 and justifiable so. Natasha came on for the second half and played some quality football with precise passing, beautiful ball control, scoring 1 goal and unlucky not to score a second. She has played very well since returning from injury.
04/02/2017 v Sant Andreu – What a shame. Levante Las Planas played mid table Sant Andreu and Levante played their best football of the season as they dominated Sant  Andreu. Levante dominated possesion, field position and controlled the game generating approximately 20 attacks on goal. However, Levante didn't mange to score due to some brilliant goal keeping while Sant Andreu scored from their only attack on goal. The result was a very unjustified 0-1 loss. Natasha was selected to start the game on the wing and began very well by generating several strong attacks on goal. Shortly before half-time she was changed to her favored midfield position and continued to play extremely well shutting down many plays and creating numerous attacks. She had one shot brilliantly saved by the keeper. Overall she created 5 opportunities on goal but failed to score. However, the goal against Levante was scored when Natasha was being rested. It was arguably Natasha's best game of the season and follows on from her strong game against Barcelona. (Sorry but no video due to moving offices)
28/01/2017 v FC Barcelona – Levante Las Planas played competition leaders, the mighty FC Barcelona this week. While Levante haven´t been playing their best football in recent games they didn´t really get a chance to play good football against Barcelona as Barcelona completely dominated posession, Levante did scramble well defensively and worked very hard to eventually lose 4-1. However, they were unlucky the score was not closer. Considering Barcelona defeated a mid table team 1-12 last week the 4-1 was a respectable result. Natasha played well and worked very hard using her speed to force several turnovers and creating several attacking threats. She always looked to play a passing style of football which at times caught her teammates unprepared. However, it was a good effort by the entire team.
22/01/2017 v Cerdanyola – Well the trend continues as Levante Las Planas fail to play any respectable level of football and again failed to take decent touches, were really disappointing in their inability to pass the ball to a team mate and the midfield lacked structure and failed to control the game. What should have been a difficult game but comfortable win resulted in a 0-0 score, highlighting Levante´s inability to play constructive attacking football. This sees Levante tumble to 6th position on the table with the next game against the might of FC Barcelona who appear to be  in cracking form. Natasha had a solid game but lacked any real opportunity without any good football being played to her, or for her but it was her first full 40 minutes since returning from her injury and she moved well looked fast and took some nice touches.
14/01/2017 v RCD Espanyol – It was always going to be a difficult game as Levante Las Planas played against the highly regarded selective team of RCD Espanyol U19A team but it was more than difficult as Levante were totally outclassed with the two teams being at very different levels. Espanyol used the full width of the field with a precise long and short passing game. They had players always in motion, moving into space, presenting and attacking the ball while Levante struggled to take a decent touch and couldn´t even get a pass to their own players. The possession would have been close 90% to Espanyol as Levante were very fortunate to lose only 4-0. Natasha played a full half of football and the first full half of football since returning from her injury. She played well as she forced numerous turnovers, made good touches, was effective with most of her passes and really troubled Espanyol with her speed. It was a solid performance by Natasha which is difficult in a team that was totally outclassed. Apologies for the video quality as the field was poorly lit and there weren´t any elevated points where it was permitted to take video.
09/01/2017 As you saw in the video highlights 08/01/2017, Natasha made a return to full training and the game last week however the coach wanted to be cautious with her and only played her for 20 minutes in the game. We thought she was suitably prepared to play the entire game but we understand and appreciate the coaches caution. Therefore having only played 20 minutes of game time and having Friday off from team training due to Chrstmas celebrations we decided to ramp up gym. Below is a video of Natasha doing a Single Leg Supported Half Squat to about 100 degree knee bend with 120kg for 2 repetitions. That is over 2 times her bodyweight on one leg. The video below that shows her doing multi-directional plyometrics. What we didn´t video was her doing those same plyometrics on one leg and with a weight vest of 10% of her bodyweight which she did for 2 sets prior to the video. Don´t worry we will upload some of those videos in the future.
08/01/2017 v Fontsanta – The first game after the Christmas break and Levante Las Planas played what was destined to be a tough game as it was 6th versus 7th. It was also the local derby and an opportunity to move back into 4th position with a win. However, while it was a tough encounter neither team lifted to the occasion by playing quality football. There were to many easy turnovers, not enough precision in their touches or passes and generally lacking quality. Levante did have two very good opportunities on goal but neither were converted and the end result was a 0-0 draw. For Natasha it was her first game back from what was a nasty injury. She had a grade 2 sprain of her medial ligament, an inflamed meniscus cartilage, grade 2 strain of her hamstring tendon and significant bruising which was about a 5 week injury. Considering the injury Natasha´s coach gave her 20 minutes at the end of the game and while she was a bit rusty she did a couple of nice plays but clearly needs a couple of games to get her game awareness back but physically she looked great and she is beginning to look extremely fast. Hopefully she will get more game time next week and some playing time in the midfield would be good for Natasha and the team.
18/12/2016 v La Roca – Levante Las Planas played arguably their best football of the season to earn a 1-2 victory in a very physical game against La Roca Penya Blava. Missing 4 quality players including Chris, Jessica and Natasha with injury and Laura on representative duties the game was going to be a big challenge. Then Sandra and Carlotta were replaced in the first half due to injury which left Levante with only one healthy player on the bench but to their credit they fought for the entire game and played some high quality football at times and a better quality of football overall to produce a tough 1-2 win. Natasha continues to rehabilitate her knee which is improving daily. She is on the verge of returning to full training and should be fit to play the first game after Christamas against Fontsanta.
14/12/2016 Natasha continued to rehabilitate her injured knee as she is determined to return faster and stronger than she was before the injury. Below are some videos from her rehabilitation session.
10/12/2016 v Reus – Levante Las Planas under perform again as they took on 7th placed Reus. Even with Reus being 7th place they clearly didn't play a strong brand of football but more relied on the speed of a fast striker and winger to win their games. It was a game that Levante really should have won comfortably however Levante again failed to play decent football with a very weak midfield and the result ended 2-2. Natasha didn't play due to her knee injury.
26/11/2016 v Pontenc – Levante Las Planas U19A played last place again this week. While they made more effort to play football they are still a long way from where they need to be in order to compete with the top teams again relying on the individual scoring prowess of Laura to score goals and lacking the composure to play forward attacking football in the final third. However they did win 1-2 to break their 4 game winless drought. Two issues were highlighted this for this game. The first was that the opposition had seven players injured and some supporters felt that Levante would not have won if the opposition had their best team playing. The second is that Levante do not play with the same composure when they are playing a game as they do when they are in training. It is something they need to address. Natasha didn´t play much football as she came on shortly after half time and was chopped badly after only about 15 minutes injuring her left knee. However, she made several strong attacks in that time and was looking very good. We will update the site with the extent of the injury when we know more but at this stage it looks like it is a sprain medial ligament and an inflamed meniscus along with alot of bruising.
20/11/2016 v Guineueta – Natasha played for the Open Women B team and while they played a lower level team they were very convincing in their performance winning 7-0. Natasha again had very little game time but played some quality football showing what she is capable of if she gets a decent opportunity. See this weekends U19 game below.
19/11/2016 v Sant Gabriel – OMG!!! Is all that can be said. If you have read the progress of the Levante Las Planas team this season, you will have noticed that most of the post game commentary is about their failure to play football. Describing how many players hold the ball too long and do not have a constructive passing game etc. Also, if you are a regular to this page you will also know the view of the author is that individual football will only produce wins against average and poor teams and to beat good teams you need to play a disciplined team football. This week Levante played Sant Gabriel, a team struggling for form as they languish at the bottom af the table without a win in 7 games. Levante continued their poor quality individual style of football and were outplayed and dominated by Sant Gabriel losing 1-2 at home and falling to 6th place without a win in the past 4 games. Some big improvements are needed if they are going to be competitive against the top teams. Natasha only got 25 minutes of game time at the end of the game, however, she made a noticeable difference to the teams attacking penetration by playing quality football and while she created a few attacking opportunities for the team, none of them were converted to goals. Hopefully she will get more game time in her favoured midfield position next game as when she plays there she makes a measureable difference.
12/11/2016 v Vic Ruiprimer – What was always going to be a difficult game was given a deceptive edge as Levante Las Planas opposition for this week were beaten comfortably by Barcelona 7-0 the previous week. However, earlier results suggested that Vic Ruiprimer could play good football and could score goals and they did just that. Vic Ruiprimer comfortably and completely outplayed Levante as they passed the ball competently and precisely while Levante fumbled touches and bombed balls forward lacking any type of football technique. There was such a distinguishable difference it appeared that Vic Ruiprimer were another level above Levante. Natasha started the game in her favourite position playing attacking midfield and it was clearly going to be a difficult task in a team that was not playing football but she chased hard and defended well creating many turnovers and winning some good football. At half time the score was 0-0 and Natasha was rested. The second half resulted in Vic Ruiprimer continuing to outclass Levante eventually winning 2-1. Interestingly in only one game this season has the opposition scored while Natasha has been on the field. In all but one game all the goals have been scored when Natasha has been rested.
06/11/2016 v Jupiter – Another game where Levante Las Planas open women B should have won the game comfortably as they created twice the goal opportunities as the opposition but failed to convert them and eventually lost 1-2. Two weeks in a row Levante has outplayed their opposition and created many more goal scoring opportunities but have lost Natasha had 30 minutes of game time and looked fast and did a few quality plays but didn´t really get many opportunities.
05/11/2016 v Damm – Match of the round with Levante Las Planas placed second playing against Damm placed 3rd and as expected it was a tough match. However, while both sides were level for skill and athleticism Damm played the much better team football to comfortably and deservedly win 1-4. Levante had their chances to score but didn´t take them. While Damm scored 4 goals they also had numerous other chances they failed to convert but deserved to win. Natasha had a game where she played some quality football and times where she looked nervous taking some big touches from misjudging the speed of the game. But she had a sound game considering it was the highest standard and intensity of football she has ever played.
30/10/2016 v Seagulls (open) – Natasha played with Levante Las Planas open women B who play first division in Barcelona. It was her second game in 2 days. The game was a tough battle and Levante dominated the play for most the game but some bad errors which cost goals eventually losing 3-2. Natasha had a good game with some nice touches and passes and played a great header for Laura to score her second goal.
29/10/2016 v Santa Susanna – Levante Las Planas played a very competitive Santa Susanna in what promised to be a difficult game but should have resulted in a sound victory and remaining at the top of the table. However, Levante never looked comfortable with the speed of the game and really struggled to take quality touches and failed to play any reasonable quality of football. However they went into half time with a 0-2 lead thanks to two great opportunistic strikes from Laura. The second half saw Santa Susanna dominate scoring 2 goals for a fortunate 2-2 draw for Levante Las Planas. Levante moves into second place behind FC Barcelona but with some very difficult games ahead. They need to work on improving their football as a team or they will struggle to maintain their place on the table. Natasha struggled to get into the game this week as her team didn´t really play to the wings and when they did the football delivery was poor. She had a couple of nice touches but didn´t have an influence on the game.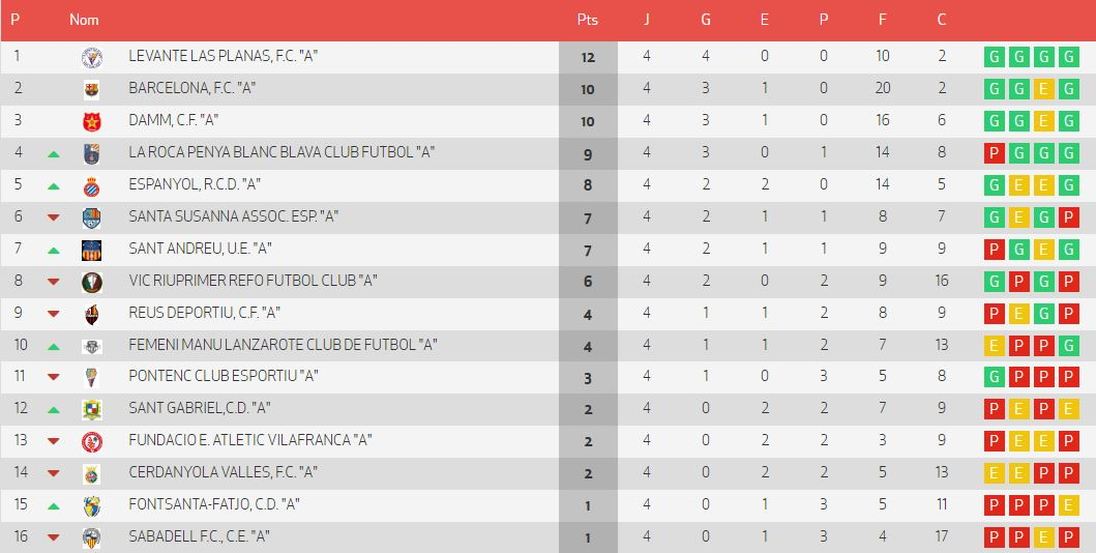 2/10/2016 v Vilafranca – Levante remain in first place with 4 wins from 4 games as they took on Vilafranca A. This week Levante Las v Planas played the team who drew 1-1 with FC Barcelona last week. Any team that can match it with Barcelona is a team that needs to be approached with extreme focus. Levante have been improving each week but played poor football as they struggled to pass the ball accurately and struggled to maintain any quality posession. However, Levante managed to win 2-1 which can often be a sign of a good team, to play poorly and still manage a win. Natasha played a quality game with good defence, penetrating attacking runs, good vision and accurate passing. She played a very complete game and probably her best game this season.
---
15/10/2016
v Manu Lanzarote – Well a week in football can be a long time as Levante Las Planas went into this game as one of only 3 teams in the competition that had won every game. They played Manu Lanzarote who beat them 1-4 in the pre-season but Levante have improved alot since then and continue to improve each week. The team played a very high quality and composed first half of football to lead 0-2 at half -time. The second half was mistake ridden but Levante managed to maintain the 0-2 lead and to win the game taking them to 3 wins from 3 games. Natasha returned from her sickness and had a hard working defensive game winning alot of ball and while she tried alot of different things in attack which didn´t quite work it was a good learning game for her. She looked very fast in attack and was in great position often but didn´t receive the ball very much.However, the big news was that after the weekend games Levante Las Planas are the only team who have won all their games. This makes them the leaders at the top of the table, 2 points clear of FC Barcelona and clearly ahead of RCD Espanyol. Great work girls on leading the U19 first division in Barcelona but it will require further improvement to stay there.
08/10/2016 v Sabadell – Levante Las Planas played a much more constructive football game today to win 3-1 against Sabadell. While it was a sound win and Levante dominated the game from early and never really look threatened they still needlessly turned over the football many many times. Too many players are holding the football far too long and then making poor passes. It is early in the season but this is something they will need to improve in order to beat the better teams. Natasha didn´t play this game as she spent all day Friday in bed vomiting and was not feeling 100% on game day. The weekend was rest for her and she should be all good for the next game.
02/10/2016 v Sant Andreu – Well the season officially started with the Levante Las Planas team winning with what looked like a comfortable 3-0 victory but it was not comfortable at all. Levante played an extremely low quality of football especially considering the ability of some of these girls and found themselves losing 1-0 at half time. It was only when the Sant Andreu team tired towards the late stages of the second half that Levante had more time and space and produced 3 goals. Levante still has alot of work to do to be competitive against the better teams. Natasha started the game but had very limited opportunities and very little quality ball but she looked very composed with the ball and had a high percentage of completed passes. It was a difficult game when the team didn´t play any where near their ability.
25/09/2016 v Incresa (Open) – The last trial game before the season begins and the Levante Las Planas team made easy work of the lower level Incresa team. Levante played well at times to win comfortably 1-10. The only issue with this games is that some of the players were content to play a level of football that will not be effective against some of the better teams at this level while other players played outstanding quality football. This game looks like a good win but some improvement is still required. Natasha had a very good and well rounded game. She scored one goal and made many good runs while on the wing and when moved to the midfield she positioned herself well, played a very accurate passing game and managed a few shots on goal. As her confidence grows it will be nice to see her run with the ball a little more but overall a very high quality game from Natasha.
17/09/2016 v Sant Vicenc – An easy game for Levante Las Planas as they played a practice match against an U19 second division team Sant Vicenc, however LLP did play a fast and aggressive style of game to allow Sant Vicenc into the game and to comfortably win 13-0. Natasha didn´t get too many opportunities with the ball but again looked very comfortable with the ball and continues to adapt to the faster speed at this level. She only had a few touches of the football but did some nice work with those touches. When she played midfield she positioned herself well and covered good ground to always be supportive. A few big touches prevented her from scoring a couple of goals also.
10/09/2016 v Manu Lanzarote – A difficult day for Levante Las Planas U19A (LLP) as they played a trial game against a very competent and well coached Manolo Lazerote U19A team. A team they will meet in the regular season. LLP were totally outplayed especially through the midfield eventually losing 1-4. Natasha had a solid game with some good penetrating runs and created the play that led to their only goal. She played better football in general play than the previous week but still needs to improve on some of her basic touches. Overall it was an improved performance from Natasha as she continues to adjust to the increased intensity at this level.
04/09/2016 v Levante Las Planas –  After the first week of training Natasha played her first trial game with the U19A team. The game was an in house game against her team from last season U19B. Natasha started the game on the bench and entered the game at the 20 minute mark with the score locked at 0-0. The A team were dominating the game but were unable to score while the B team were being very competitive. With her first touch Natasha scored a lovely goal to make it 1-0 at half time. 5 minutes into the second half she scored a cracking header goal for 2-0. Another 5 minutes later she provided the assist for the third goal after a very nice play and roughly 5 or so minutes later she scored an absolute stunning goal for her hatrick and to take her side into a 4-1 lead. Her team went on to win 8-1 but Natasha clearly changed the game with her quality shooting. While some of her general play skills were a little below her usual standard her 3 goals from 4 shots, 1 assist and 1 key pass would make any coach happy. A great start to the season and a very impressive display.
27/08/2016 Natasha begins the pre-season training with Levante Las Planas A after a little bit of controversy.Natasha was clearly the best player for Levante Las Planas U19B team last season and played all the games to complete a massive season. She was also invited to play for Levante Las Planas U19A team on 4 occasions playing very well and scoring one goal creating another and providing several key passes. In every game she gave a good account of herself. She was also invited to trial for the U19A team at the end of the season where she created 2 goals in a 4-1 win. So it was generally accepted by everyone that she would be playing with the U19A team, however, as the start of training drew closer no-one had told Natasha in what team she would be playing. With less than a week before training was due to start Natasha was told that she would be playing another season with the U19B team as they wanted her to lead the team and be a strong player for them.Natasha was bitterly disappointed as she felt that she had done everything right in the previous season, she had done everything the club had asked of her, tried 100% in every game, tried to motivate all the team when times where tough and led by example on and off the field and while she enjoyed the team and made lots of good friends she clearly had outgrown the team with her playing ability and athleticism. Natasha expressed to the club that she was disappointed that she wasn´t given an opportunity to play for the U19A team considering she had proven herself on many occasions, had been dedicated to the club. The club had also recruited numerous players from outside but not elevated Natasha. The U19A coach said that he wanted Natasha to play in the U19A team but the U19B coaches had expressed a very strong desire to keep her in their team. However, with her voicing her desire to play at the higher level, the U19A coach happily agreed to give her the opportunity to prove herself again and has given her the opportunity to train the pre-season with the U19A in order to do that.
26/08/2016 Below Natasha runs a 40m sprint at training just before the beginning of team training next week. She looks very impressive.
27/07/2016 After a 6 week break, Natasha returned to training this week. Training started nice and gentle but with alot of quality. After a good 6 week rest she looks very crisp and fast. Early signs are extremely good. Especially when she pumps out a 100cm jump at her first gym session for the season. Below the hurdle is set at 80cm which she clears by about 20cm. That is more than 60% of her height in her first gym session after a 6 week break. As we say, early signs are very positive.
09/06/2016 Natasha received a message today inviting her to trial with the Levante Las Planas Under 19 A team. The team plays in the Catalunya U/19 feminine first division and spent most of this season in 3rd place behind FC Barcelona and RCD Espanyol but lost their last 3 games to finish 5th. Natasha played 4 games for them throughout the season and looked very comfortable at that level. Hopefully the trial goes well and she gets selected as it is exactly what she was hoping would happen for next season. Well done Tash.
06/06/2016 Now that the main season has finished we decided to do some testing with Natasha. Yes, less than ideal timing as she is carrying an entire season of fatigue and her biggest season yet but her body is still in very good condition and it gives an indication of how she is going. Well, she ran her 40 metre speed test is 5.76s. That speed is faster than some professional athletes and will improve with rest alone.