SEASON 2014/15 Summary
Season 2014/15 was a much more challenging season than anyone could have imagined as Natasha changed from a very talented football playing team in Valencia to a totally different ball holding individual football style of RCD Espanyol and from a very relaxed coach to a very intense coach. However, it was probably the best place for Natasha to be as it meant she was forced to work on the weakest areas of her game, which were composure under pressure, holding the ball under pressure and running with the ball.
Natasha again improved in every component of her game and improved dramatically which meant it was a season that resulted in her really expanding her game and we continue to see Natasha influencing game results when she played significant game time. We also had a few previews of what we can expect next season as Natasha moves to the full field and under 19´s because the games she played on the full field she was amazing and literally had everybody talking about how good she is on the big field.
Natasha was invited to trial for both Levante Las Planas and RCD Espanyol but after trialing with Levante Las Planas she decided to accept their invitation to play there and she decided to not even trial for RCD Espanyol as she preferred the coaching style of Levante Las Planas and the possibility of playing lots of game time. However, she is extremely grateful to RCD Espanyol for this season.
This season resulted in some massive improvements for Natasha physically as she can now hack squat 150kg and we think run her 40m under 6.0s but she has an injury at the moment and needs some rest after her biggest football season ever. So we will do some testing in the pre-season after the break and we have her back in training and we will post the results on this site.
From the evidence we saw this year Natasha will transition to the full field incredibly well and looks set to have an incredible season but we need to improve her goal scoring ability significantly and continue to improve other areas of her game. We will also work heavily on her vision and awareness.
Game Statistics
Here are Natasha´s statistics for each game. Statistics were only done for a limited games this season as time didn´t permit more statistics to be done. However you can see that Natasha was again very effective statistically placing 1st or 2nd for the team 6 out of the 9 games and this is considering that Natasha played significantly less game time than most players making it much more difficult to build the numbers to create better stats. Again another good season. She scored about 6 goals for the season and 2 in post season tournaments and created many assists and goal opportunities.

15/07/2015
Espanyol went to a tournament near Segovia close to Madrid which was a very high level tournament including teams like Racing Santander and Athletico Madrid who each won their district league competitions this season. Natasha began the first game on the bench so we assume that the coach was concerned about her ability to play at the level or her "suitability" to play these games as has occurred in previous weeks. However, after approximately 10 minutes Espanyol were losing 2-0 and being totally outplayed so the coach put Natasha into the midfield and she changed the game as she created many goal scoring opportunities for herself and her team and was key in helping to prevent any further goals being scored.
As we have stated here many times now, we notice that when Natasha plays a lot of minutes for Espanyol the results are nearly always better but clearly the coach hasn´t realized. After making a noticeable difference in the first game Natasha was selected to start the following game against San Nasocasim and she delivered again as she created many goal scoring opportunities for herself and her team as they won 2-1 and clearly dominated their opposition.
Ok, so we have reported how Natasha helped stabilize the team in the first game and win the second game but the test was to come as they were about to play the very impressive and favourites to win the tournament, Athletico Madrid. Athletico Madrid won their district competition, were undefeated in the tournament and are always are impressive selective teams. So, by now the coach is clearly thinking that Natasha can play at this level as she starts in the midfield alongside Arianna (who we also believe is a very strong midfield player). Everybody was nervous as this game was a key to the sides possibility of winning the tournament. Well, we were speechless as Espanyol totally outplayed and dominated Athletico Madrid and it was all being generated by the midfield of Natasha and Arianna as they worked together beautifully to create turnovers and continually pushed Espanyol into attack creating many scoring chances for themselves and other players.
The crowd were constantly awaiting the uprising from Athletico Madrid as nobody thought Espanyol could dominate them so extensively for the entire game, but with the exception of 3 minutes late in the second half Espanyol totally outplayed Athletico Madrid creating about 8 strong goal opportunities to 1 and going on to win 2-0. While the entire Espanyol team played well the midfield of Natasha and Arianna were absolutely outstanding and dominated and controlled the game.
The only negative was that Natasha received an injury to her foot and was unable to play the rest of the tournament. The very next game Espanyol lost 2-1 to a team they were expected to defeat and therefore were relegated to play off for third position. The next day they played extremely good football without Natasha and finished third but again Natasha proved her ability to influence the teams results and while ever Natasha was on the field for Espanyol, no goals were scored against the team and that is against some very good teams. Two issues came form this tournament for Natasha and they were a nasty foot injury that will hopefully heal quickly and Natasha´s inability to score the goal opportunities that she created. So something for her to work on but again she proved she is a very talented footballer.
07/06/2015
A local tornament was held against two teams that Espanyol have not played this season. The first game resulted in a 3-1 win and while the girls for the most part they tried to play football they were not particularly impressive against fairly week opposition. The second game was a game to decide the winner for the day and again a lacklustre performance against a slightly stronger home team. Espanyol won the game 1-0 with Natasha creating and assisting for Eva to tap in the goal.
While Natasha created the winning goal her performance was only average as she struggled to get some of her control and passes accurate. However, she was extremely tired as she trained nearly all days this week and two of those days were with Under 19 teams. It appeared that nearly all the team is tired and the quality of their football is not at the level expected at this end of the season because of that.
31/05/2015
Another interesting experience in the life of a footballer. Espanyol went away to a tournament in Andorra for the weekend to compete against some quality teams and some teams that were obviously at a lower level. Unfortunately Natasha didn´t get a lot of game time because, as we found out later after discussions with the coach, the objective is to win because Espanyol are a selective team and the objective needs to be to win. This is a philosophy we fully understand although I strongly believe that at under 14 age group the focus should be on developing all players equally because that will benefit the club and the players in the long-term. However, the objective of the coach was to win and he felt that many of the games did not suit Natasha´s playing style and therefore did not play her as often as the other players.
The interesting thing here is that we have noticed that when Natasha plays reasonable playing time the team has better results and we have given numerous examples here. Like, her team Espanyol had not defeated Penya Blanc Blava Roca in two previous games during the season, both which Natasha did not play, yet in the third game Natasha did play and Espanyol won. Espanyol had a draw against Sant Gabriel A team when Espanyol had their full team. Then 4 of the best players were away and 3 players were injured which meant Natasha played significantly more game time and resulted in a win even with half the team out. In the first round of the season Espanyol lost 3-0 to Mercantil with Natasha entering the field once the game was over and only 10 minutes remaining but on the return match she played many more minutes and Espanyol won comfortably. Then the game against Barcelona where Natasha played many minutes and Espanyol were losing only 2-1.  With 15 minutes left and making many strong attacks, Natasha was replaced and Espanyol went on to lose 8-1. Also the torneo where she changed the course of the final when coming on into the midfield. This is something the coach obviously hasn´t noticed.
The other very key indicator here was that Natasha´s team from the previous two years, Valencia, were at this tournament and it was nearly the identical team she had played with for 2 years previously. Therefore, it was always going to be interesting to see who was the better side and who played the better football, as the two teams play very different styles of football. The Valencia team are always looking to pass and support and to really play football letting the ball do the work while the Espanyol style is to look to take a touch, hold and run with the ball before trying to pass. Our guess, as it has been the point of discussion many times during the season was that her Valencia side was a 4 to 5 goal better side, not necessarily because they were better football players but because they played better football.
So what happened? Well the first game against Toulouse FC resulted in a 1-0 win from a very close game. The second game against Valencia resulted in a 2-0 loss and Valencia were clearly the better football team, while the third game resulted in a impressive 4-0 win against the very unimpressive Lleida team. So into the final after finishing second in the group and Espanyol lost 10-1 to Real Sociedad and then went to the playoff final against Villarreal to lose 3-0.
Some interesting points can be presented here is:
1. The coach felt the games weren´t suited to Natasha´s (and another players) playing style. However, her Valencia team won the entire tournament and won comfortably defeating a very strong Real Sociedad in the final 4-0. That is a 13 goal difference to the Espanyol result against Real Sociedad and Natasha was a permanent part of this Valencia team for the past two seasons but apparently not suited to the Espanyol game in this tournament?????
2. Espanyol conceded 15 goals in the tournament (more than any other team) while Valencia conceeded 0. In this case, how suited is the Espanyol team to this tournament? and wouldn´t it make sense to at least try someone that has the playing style of Valencia or for that matter anyone else because the selected Espanyol team wasn´t working.
3. In the previous season playing for Valencia, when playing against Villarreal, in the first game Natasha scored the winning goal and in the return round she had an assist and again scored the winning goal for a 2-1 victory. However according to the coach her playing style wasn´t suited to playing against Villarreal in the consolation final as she only played for 5 minutes at the end of the game.
4. In the game against Real Sociedad where Espanyol lost 10-1 the coach used a player in the midfield who has not played midfield this season or in fact even trained in the midfield. He did this in preference to four players who have trained in the midfield this season and it was evident that this player could not play the midfield position well. It is interesting to try to understand how this  players playing style was more suited than other players playing styles.
5. Natasha was a permanent player in the team that won the tournament (Valencia) and in the last season playing with Valencia she scored or created many goals against very strong opponents yet for this tournament it was deemed that she didn´t have the playing style for the team that finished fourth.
Anyway, more points could be made here but at the end of the day Espanyol finished a disappointing 4th and we must accept the coaches decisions as the coach is the one that puts in all the time and effort. Natasha was disappointed that her new team was not good enough to beat her old team but was ecstatic that if her new team couldn´t win the tournament that her old team did. She gave 100% everytime she was asked to play and was happy to be a part of the Espanyol team. The team also kindly gave her the trophy cup to remember them by as Natasha will be moving into the U19´s next year.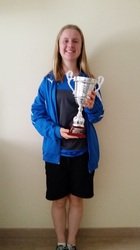 17/05/2015
​v Sant Gabriel A – Well, what an interesting result. With 4 key players away and 3 players injured we stated here that the more senior players would need to stand up for Espanyol to be any chance of beating Sant Gabriel A with whom they had a draw at their last meeting with a full team. We have also mentioned the influence Natasha has on the teams results when she plays significant game time. Well, I am very pleased to say that the 3 players mentioned here all had great games and worked tirelessly to lead their team to a 5-4 victory under very tough conditions. Arianna controlled the middle well and played some lovely football at times, while Natalia struggled early but when put to fullback was fantastic bolstering what has been and was on the day a flimsy defence and Natasha had and outstanding game in defence and attack creating and scoring the winning goal in what was an incredible performance by the entire team. Another senior player who also lifted for the game was Roser who worked hard and scored two critical goals. Great effort girls and a just reward for the hard work.
15/05/2015
An interesting week indeed with several snippets of interest
4 key players are away, two injured and another only just returning from injury for the final game of the post season tournament against Sant Gabriel A for which the previous result was a 4-4 draw makes this game even more difficult, and with 3 replacement players coming from the under 10 team to help. This will mean the more senior players like Natasha, Arianna and Natalia will need to shoulder alot of the load if they are any chance of winning. Good luck girls and just try your best.
Natasha did a heavy session in the gym this week doing a personal best in every exercise but most impressive was the 127kg x 4 reps on the Hack Squat. That is nearly 3 times her bodyweight at only 14 years old. WOW!!! (Sorry we didn´t think to get it on video)
Espanyol A go to two post season tournaments that will see them play quality teams like Paris Saint Germain, Real Madrid, Athletico Madrid, Athletic Bilboa, Valencia, Toulose and many more top quality teams. What a fantastic opportunity.
09/05/2015
v FC Barcelona A – The return match against the mighty FC Barcelona again was an interesting game. As we mentioned here with the game against Penya Blanc Blava Roca that we have noticed that if Natasha plays a significant amount of game time the team seems to get better results than if she doesn´t play and that is not saying that she scores the most goals or creates the most assists because she doesn´t but we have noticed she seems to make a difference to the outcome of games. In my personal opinion I believe it is because she wins alot of ball defensively and transitions into attack quickly with good, accurate and fast ball use but that is only my opinion. Anyway, well into the second half Espanyol were losing 2-1 and were quite competitive with several good attacking raids and the game evenly poised. Natasha asked to be replaced due to breathing difficulties because of allergies to pollens in the air at the moment. Espanyol went on to lose 8-2 in what was a real shame because they had been so competitive earlier. However, again a large number of goals conceded by the defence who are conceding an average of more then 7 goals per game in the post season games which must be a real concern for the coach.
03/06/2015
v La Roca A – Interesting game from Natasha´s viewpoint. Espanyol A played a practice game against the team that beat them for first place in the competition La Roca Penya Blanc Blava. During the season Espanyol played this team twice and were unable to beat them but both times Natasha didn´t play. The first game she couldn´t play because she still wasn´t registered after moving from Valencia and the second time she couldn´t play because she was so sick she couldn´t get out of bed. So this game was interesting to see if Natasha could make such a difference that she could help her team win. Did she truly make a difference to the team´s results, and we were also very curious because we had noticed during the season that if Natasha played a significant amount of game time her team had won every single game and outside of the season the only games they had lost when Natasha played a significant amount of game time was against Barcelona and the Espanyol sister team which are regarded as the two best teams in Catalunya. So did she make a difference? Well for the first time this season Espanyol defeated La Roca Penya Blanc Blava and the score was 9-10. While Natasha didn´t score any goals and it was a great team effort she made many strong attacking runs and played great football to obviously be the difference. However, of concern to the coach must be his defence as in the last 3 games the defence has conceded 19 goals averaging more than 6 goals per game conceded. It makes it very difficult to win games when your attack needs to score 7 or more goals or 10 goals in order to win as they did in this game.
25/04/2015
​v Sant Gabriel A – Second game into the tournament saw a 4-4 result in what could only be considered a game of two halves. That is the attacking half of the team playing very well and creating many attacking opportunities and the defensive half of the team having their worst game of the year allowing in 4 goals from not many attacks and from a Sant Gabriel A team that did not present anything like the attacking dangers of FC Barcelona the previous week. In summary a disappointment to finish the game in a 4-4 draw for what should have been a win.
Natasha has continued with her high quality of football in the high level games. In this game she started the game and played some very nice passing football but left the pitch early due to some breathing restrictions in her throat. She returned to the game immediately after half time and was instrumental in taking her team from a 2-1 deficit to a 2-4 lead by creating one goal and scoring another and making many penetrating runs in creating all sorts of problems for Sant Gabriel including the play of the game. As she tired from all the running she was replaced only to see the lead disappear resulting in a 4-4 draw but a very high class game from Natasha in which she was very impressive and changed the course of the game.
19/04/2015
​v FC Barcelona – Well the start of the post season tournament sees the game that we all wanted to see and it resulted in a fantastic game where two teams absolutely went at each other in what was a great display of girls football in every respect. It was skillful, physical and fast and a great example of the talent that is beginning to develop in women´s football. Unfortunately Espanyol lost 2-6 but the game was closer than the score suggests and all the girls fought very hard and everyone associated with the team should be very proud of their efforts and don´t worry they will get another chance in 3 weeks to get revenge against Barcelona as they will meet them again.
Natasha had a very good game creating some good attacking opportunities and playing very strong defensively. As Barcelona were all very fast she didn´t get the time with the football that she normally does which caught her out at times but still she had a very good game and with 3 weeks to refine things before the next game we are expecting an even better game in the return game.
12/04/2015
WOW and Good Luck
Two weeks ago Natasha was advised by RCD Espanyol that she would need to find a new football club for next season because next season she progresses to the under 19 age group and at only 14 years of age Espanyol didn´t think she was ready to play in either of their two under 19 selective teams who are amoung the two best teams in Catalunya and were already full. However following her impressive tournament in the Costa Daurada Cup last weekend, Espanyol has invited her to trial for the Espanyol under 19 teams. Only 70 days after her 14th Birthday she will train and play against what are basically fully grown and developed women to see if she is good enough to play with them next season. Whether she makes the squad or not, at only 14 years of age it is a very high recognition of her football ability. Three things came from this recent course of events which are evidence of Natasha´s character and they are, when she was advised she would need to find a new club for next season, there was not a moment of sorrow. Her attitude was, that is ok I will find another club and keep working hard. She then went to the tournament and gave outstanding performances in every game, especially the semi-final and final even though she was sick with a sore throat and cold for both the finals games, and finally the day after she received her invitation to trial for the under 19´s she was outside training again as she always does. Good luck to her.
07/04/2015
Great Effort and Great Result
Espanyol participated in the Costa Daurada Cup which saw 8 teams of under 14 girls split into two groups and playing to get into the final and see who was the best team for the event. The teams came from as far New York in the United States and Basque Country in Spain to compete. Espanyol lead their group after the group stages being undefeated and the highest goal scoring team in the competition. They went on to have a solid but difficult 3-1 victory in the semi-final against a very good team from the north of Spain. This would see them compete against their sister team, Espanyol in the final. After 4 games in 2 days they arrive to the final against a very very good sister team only to lose 3-1 but the last 10 minutes saw the team create 7 very high quality opportunities on goal. Two hitting the post, 3 having to be saved and 2 just drifting wide. A couple of inches and they could have very realistically defeated their more highly regarded sister team. In any case it was a very high quality game and worthy of the final and the girls kept pushing and pushing. It was an absolute credit to every single one of them. Natasha had a fantastic tournament with nearly everyone commenting on her ability to play football on the big field. Her role in the final played a big part in why her team nearly defeated the favorites. Take a look at her highlights below. Especially watch at the 3.19min when she gives a player about 15m start and chases 40m to force a turnover then wins the ball and completes a beautiful pass to the fullback. Remembering this is the final and nearing the end of their 5th game in 3 days on the full sized fields which they don´t usually play on. A phenomenal effort.
01/04/2015
​v Sant Boi A – Natasha plays only her third game on the big field as Espanyol prepares for their Easter tournament which is all on the big field and she impresses everyone. Against a local under 19 team the game was poised at 0-0 as Natasha came off the bench midway through the first half of the game. One of her first touches of the ball is a shot at goals that hit the post, she then has a lovely run through the middle and assists for the first goal and goes on to play a very impressed game that has every person watching a little surprised at how good she plays on a full field.
29/03/15
​v Mercantil A – After another uninspiring performance Espanyol A sneak to a 4-3 win over Mercantil A which sees them finish the competition in second place and qualify to play the leading teams from Group 1, FC Barcelona and Sant Gabriel in the end of season play offs. Natasha had alot of difficulty transitioning from her Valencia team as her new Espanyol team played a less precise passing game and ran more with the ball. The coach worked hard all year to encourage the girls to pass more and while it never really clicked during the season they certainly did improve noticeably and finished with a solid 2nd place. The benefit for Natasha was that she was encouraged to work on her weaknesses which were holding the ball more and running which resulted in probably the biggest improvements we have seen in one season. Congratulations to the coach and everyone involved for a great season.
21/03/2015
​v Centelles A – Espanyol A had a solid 2-7 win against the highly placed Centelles A team in extremely difficult conditions. On a field covered in water it was difficult to weight any passes or even to get the passes to travel the required distance to the targeted player. It wasn´t what Espanyol wanted after a poor passing game the previous week. However, both teams had to play in the same conditions and considering how difficult they were, Espanyol did a good job to score 7 goals. Centelles goals came from errors from Espanyol. Natasha worked very hard and created alot of options but cost a goal with a poorly weighted back pass to the keeper and missed two attempts on goals due to the ball holding up in the water. However, she did alot of good things in the limited time she had on the field.
14/03/2015
​v Manresa A – Espanyol A had a comfortable yet somewhat disappointing 7-1 victory in this weekends game. Agianst a team that is much younger, smaller, inexperienced and running tenth on the table, more then 10 goals was the minimum they should have scored but Espanyol played a poor quality of football that the coach could not happy with at this stage of the season. Natasha played well but with limited opportunities and it is difficult to play good football when the team can not get their passing game working. Lets hope they are better next game.
07/03/2015
​v Sabadell A – Espanyol encountered another danger game as the took on the well regarded Sabadell A team. Espanyol took some time to take command of the game but eventually won 3-6 in a game that wasn´t as convincing as the score may indicate with alot of turnovers and inaccurate passing. Natasha had a sound game but not to the same level as the previous week. While she worked hard and won alot of 50/50 ball her passing and running game didn´t have the same impact as the previous week. But that is ok as not every week can be your best week and she was statistically very very good and created many good options.
01/03/2015
​v Sant Andreu A – Espanyol arrived prepared for a very tough game against Sant Andreu A team as the last time they met only one goal separated them in what was probably the most physical game of the season. However, Espanyol has improved their football play and individual skills since then and while they need to continue to work hard on this aspect of their game the improvement was evident in their 9-2 win. Natasha had a fantastic game playing some superb football with only one ineffective ball use in the entire game and a very nice goal along with some penetrating runs. Possibly the best game she has played in her short football career as she continues to work very hard to continue to improve.
22/02/2015
While the score suggests an easy win with a 2-12 result Espanyol struggled to get their football working during the first half of the game and they went into half time at 2-2. However, the second half resulted Espanyol playing the football we know they are capable of and in the second half to add 10 goals to nil and procure a convincing win. Natasha started a little slow but gained momentum to finish with a strong game and a very nice goal from her left foot.
(no video due to the rain)
08/02/2015
​v Puig Reig – Espanyol had an expected win on the weekend against the last placed Puigreig but played some quality football to comfortably win 6-1. Natasha had a very good game creating many goal scoring chances for herself and others in the team but failed to score until she scored her first goal for the season from a penalty just before the final whistle. Yeeeaaah her first goal for her new team.
02/02/2015
v Bonaire A – Natasha plays her first game in a month after the Christmas break, a thigh injury and a virus. A big game to return for as RCD Espanyol took on fourth placed Bonaire and they need to keep winning as to remain in second place as third position are only one point behind. While it was a competitive game, Espanyol were too strong and got out to a big lead with the final result being 7-3. Natasha had a great game with many penetrating runs combined with some pinpoint passing. She actually scored a goal and the ball was cleared from behind the line but they referee did not allow. Anyway, a great result for the girls and a great game for Natasha.
24/01/2015
OMG. Natasha was so pumped for this game against first place and fully healed from her injury with a real quality training session under her belt she woke up at 4.00am as sick as a dog and barely able to stand up. She shed a tear as she realized she was too sick to play the game and went back to bed for 3 days. Unfortunate for her and the team as her team gave the best display of the season to lead 2-0 at half time. Only to lose 2-3 in a very close encounter. It is a shame as I am sure she would have been a real bonus for the team in such a difficult game as she tends to always remain composed and plays a settling style of football in all conditions but that is how it goes sometimes. But a great effort by the team.
Natasha cannot remember missing a game of football since she started playing football age 5 and now she has missed 3 in a row. She is so keen to play football again.
11/01/2015
Not a great start to the year for Natasha as she strained her quadricep in the warm up and had to sit out of the game that was the battle for second place. She was very disappointed but very philosophical and accepting of it as a part of sport sometimes. So she had to watch as her team went on to win 3-0 and secure second place in the competition
17/01/2015
Natasha still sidelined with her injury. She was on the verge of being able to play but as the game against the top team is the next game she wanted to make sure that her injury is fully healed so she can play that game at 100%. It turned out to be the right decision as her team played some very nice football to win against a disappointing Europa team 0-11.
21/12/2014
v Mercantil A – Espanyol finished the year with a very disappointing loss to mid table Mercantil in a game that may have just lost them any chance of winning the competition. Espanyol began the game playing a lovely passing game which has been missing this season but let in 2 soft goals and then reverted back to their recent football style. Natasha played only the last quarter and her team where losing 3-0 when she came on. In the time she played her team kept Mercantil scoreless for the only quarter in the game and made many strong attacks but failed to capitalize. Natasha played very well with her decision and skills showing out. After the match the coach commented that he wished he put her on earlier because she played very well and had a settling influence on the team. Ooohhh well next time Natasha might get on the pitch early enough to have an influence.
18/12/2014
v Manresa A – Espanyol had a sound 1-6 win against a very talented but young and developing Manresa team. While the win was sound it still lacked the passing cohesion that the coach has them working towards. Natasha had a much better game this week and is beginning to understand how she needs to play with this team in this competition. While she played some lovely football and created a goal with the play of the game she had some sloppy touches as well. She will continue to work hard on improving.
13/12/2014
v Centelles A – Espanyol had a tough game against fourth placed Centelles A but prevailed with a 3-1 win. While it was a solid win, the team lacked the cohesion in their team work and passing game that we have seen in previous weeks and this is a concern against strong opposition. I believe the coach is looking for considerable improvement in their passing game as they look to play 2 games in the next 3 days to finish the first round prior to xmas. But the girls never gave up and kept grinding towards a win. A sign of a good team when they can win a game even though they aren´t playing their best and sometimes you just gotta win ugly.
23/11/2014
v Sabadell A – Espanyol A had the strongest win of the season so far against mid table Sabadell A. 14-0 was the result of some very nice football and clearly shows the team is improving each week. Natasha was honoured to be captain and played a very composed and complete game with one assist,  alot of 50/50 ball wins and some very nice passing. She continues to work on developing the attacking part of her game and it is clearly improving. Impressive win Espanyol.
15/11/2014
v Sant Andreu A – An extremely difficult and physical game against Sant Andreu resulted in a strong 4-6 win by Espanyol A and based on other results they now sit clear in second place and only 1 point behind the group leaders.
Natasha played only 15 minutes as her feet were sore from training and she couldn´t run without them really hurting her. In such a tough game she decided it was best for the team to have a fully fit person playing than a partially injured person.
09/11/2014
v Vic Ruiprimer A – A strong game by Espanyol A today. Playing against mid table team Vic Ruiprimer, Espanyol A produced their most convincing win so far this season by winning 11-0. Very positive for the amount of goals scored and also no goals were conceded. Natasha had a mixed first half of the game playing in the midfield and looking a little bit rushed and lacking compsure but she palyed on the wing in the second half and played some high quality football. It is clear to see that Natasha and her new team are getting used to each others styles of play still. However, they are improving every week.
01/11/2014
Natasha played her first game with her new team Espanyol A and they played sound football to win convincingly 1-6. Natasha had a solid game playing in the midfield, a position she hasn´t played for a couple of years now but is very suited to. She created many opportunities and defended well. This team will improve alot once they get used to Natasha´s style of play and she gets used to their style of play. They are currently in 3rd position one point behind the leaders.
While Natasha has been selected in Espanyol Infantil A team, while waiting to finalize paperwork to allow her to play competition games she was offered to play a trial game with the C team which she gladly accepted in order to clear some nerves and cobwebs. The game was between two teams who were leading their respective groups in the same level of competition. Natasha played some lovely football with some exquisite touches and precise passing. One shot at goal hit the crossbar and another great run and cross meant she had a quality game. She needs to work on her positioning as she is used to the passing game of her Valencia team whereas her new Espanyol team hold the ball more and play more direct. She will get used to this quickly. The final result was a comfortable 10-1 win to Espanyol.